That time I lived in a van in London for 1 year 3 months 24 days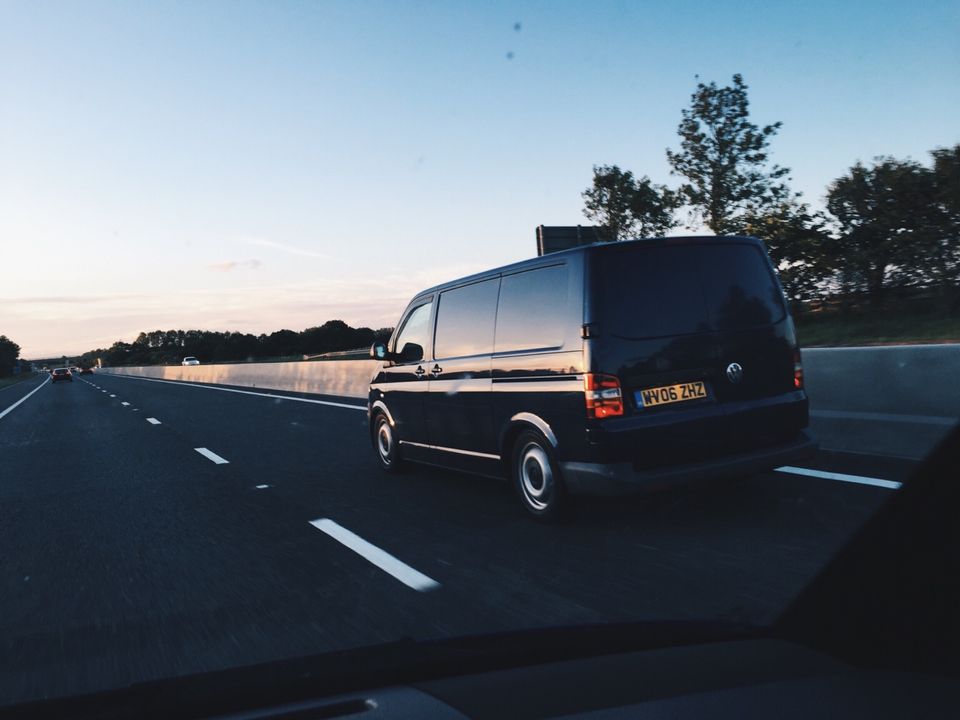 Humble Beginnings
It's probably time I write about that year I lived in a van in London. It started in July 2014, I quite fancied a van for festivals and travel earlier in the year, April/May I think. My dad has owned a VW T4 since '07 or so, it has been converted into a passable campervan (more seats, make shift bed, running water and a sink) and since '09 we have taken it to Glastonbury, Solfest and other journeys. Since I was living in London and being quite fond of VW's a T4 wouldn't make sense due to the Low Emission Zone so I set my heart on looking for a VW T5.
Aim was to find an affordable van, 1.9L engine due to being 21/22 at the time and insurance, before the festival season began. A brief 2 and a bit months of looking and I hadn't found a van to take to Glasto with me. The festival came and went (It was great to say the least, possibly my favourite year so far) and I had a few days planned in Bristol as I usually do. Steve/milkypirate (From London, also went to Glasto, lingered in Bristol post festival too) spotted a fairly nice Blue 2006 VW T5 twin sliding doors, 2.5L 174BHP engine and several other factory fitted optional extras. I ummed and arred due to the engine size and twin sliding doors and that is had close to 200k miles on the clock. We decided to check it out, the van was very tidy for it's age and had plenty of power. I knew I wanted it then.
July
I bought a van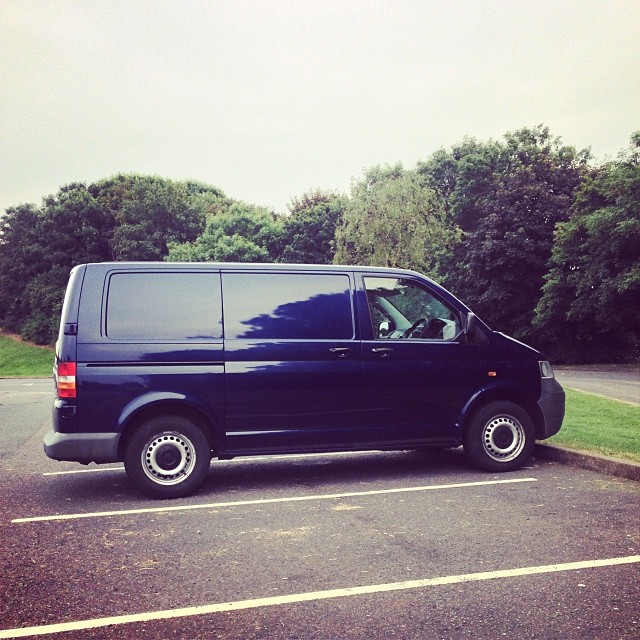 Turns out buying your first vehicle requires some planning and consideration, at the very least I needed the van to be checked over by a mechanic. The next day (2nd of July) comes by we get the van checked over, all seems good, get the cash, buy the van, and insurance. I had done it. I'd bought a van. Drove the length of the M4 back to London. And now the fun begins...
Living near Kings Cross, parking is scarce and/or expensive so morning of the 3rd I drove into Zone 3 of North London. And then the problems began, on the way back I lost my steering in the middle of Homerton, less than 24 hours after buying the van. Not ideal. Rang my Dad, rang Steve who had some tools handy and then the RAC. They couldn't fix the problem at the roadside, as I had just signed up for roadside recovery they could only take me 10 miles so home, ~300 miles away, was out of the question. Had the van towed to work, and left it there. The day after I moved out of my cosy Zone 1 flat.
4th July 2014: My first day as a vandweller, with a broken down van parked in work's car park. My mam was not impressed by this situation to say the least. The back of the van was ply lined, I put down a rug from the flat I had just moved out of that day, a mattress topper on top of that and then my sleeping bag.
I don't recall much of my first week living in my van apart from spending time after work finding out what was broken with the steering. Turns out it was the pipe connecting the power steering pump to the steering rack. Problems didn't quite end there, I began the first of many drives home but didn't make it 15 miles before I lost steering again and pushed on until Birchanger Green Services. The day after, the van was loaded onto the back of a truck and I was taken home.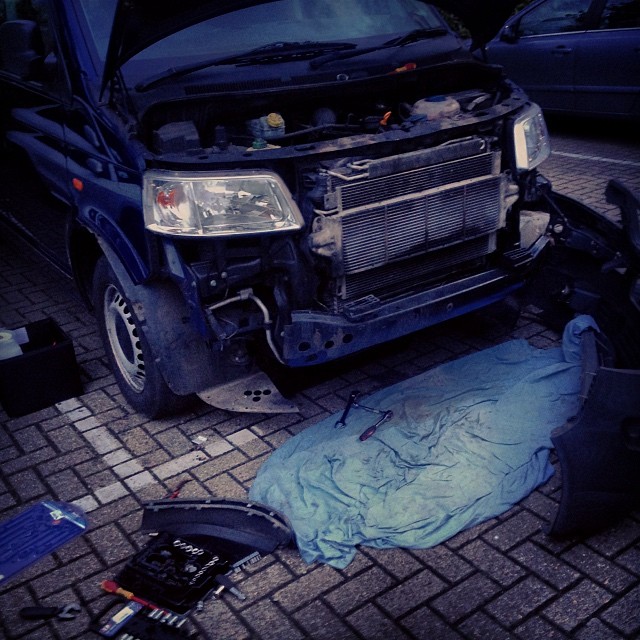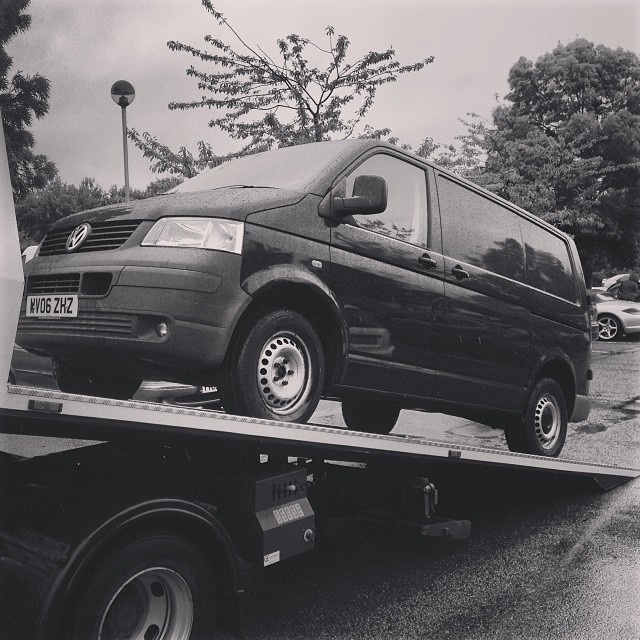 Luckily once home I fixed the problem and it was time to start enjoying my van for what I bought it for. I picked up a Ikea Lycksele double sofa bed from Gumtree and put that in the back to replace my mattress topper. Drove to Derwent water with my brother, Alnwick and Scottish borders with Cat and then Kendal Calling with the van passing as a camper with my brother.
Keswick & Derwent Water: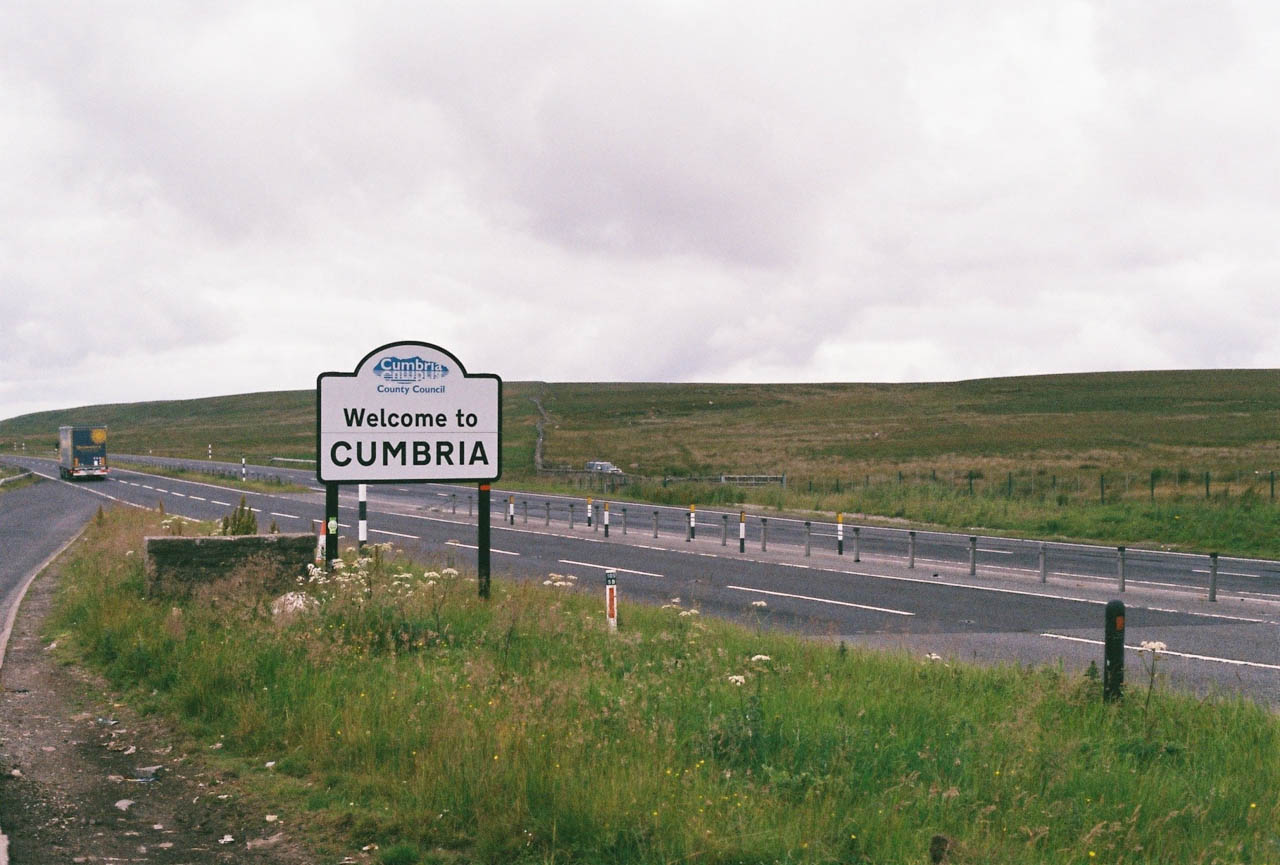 Alnwick & Scotland: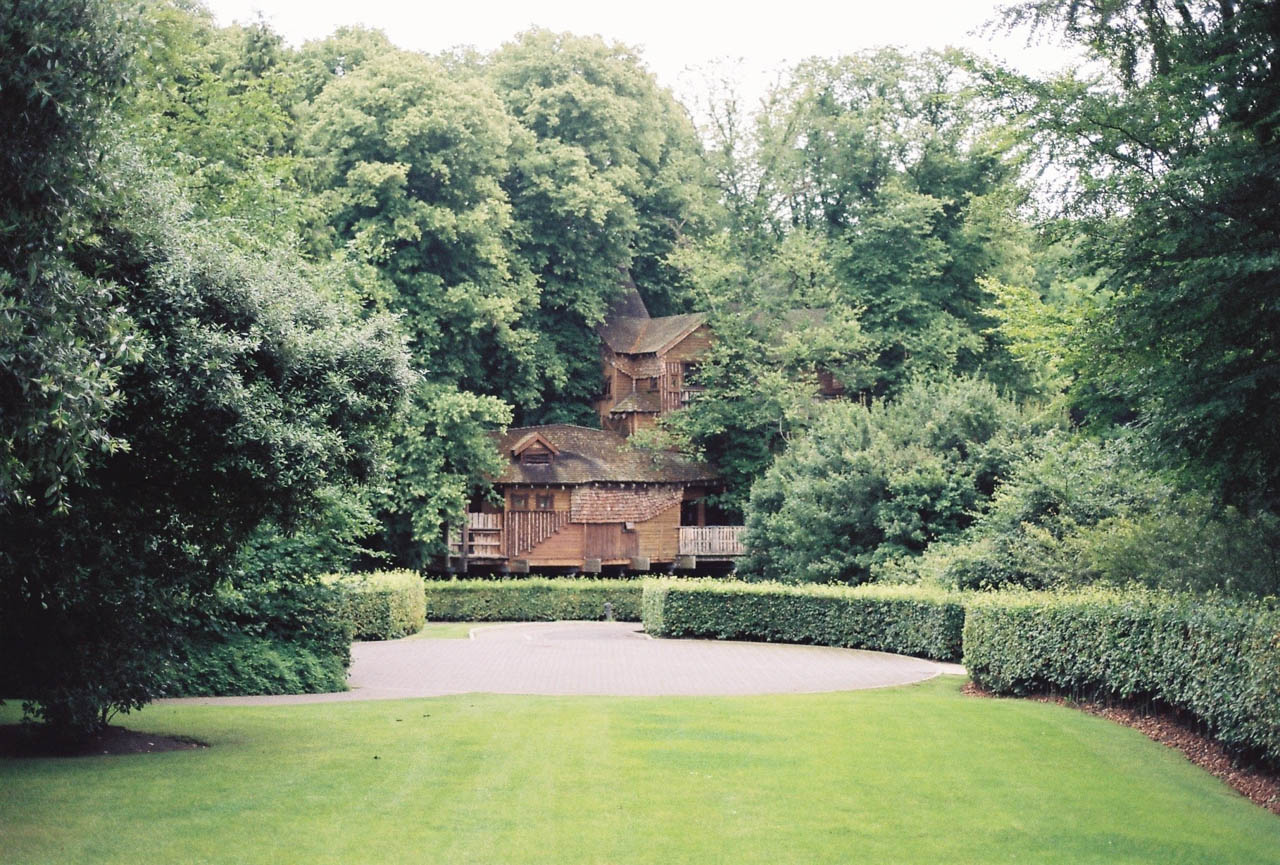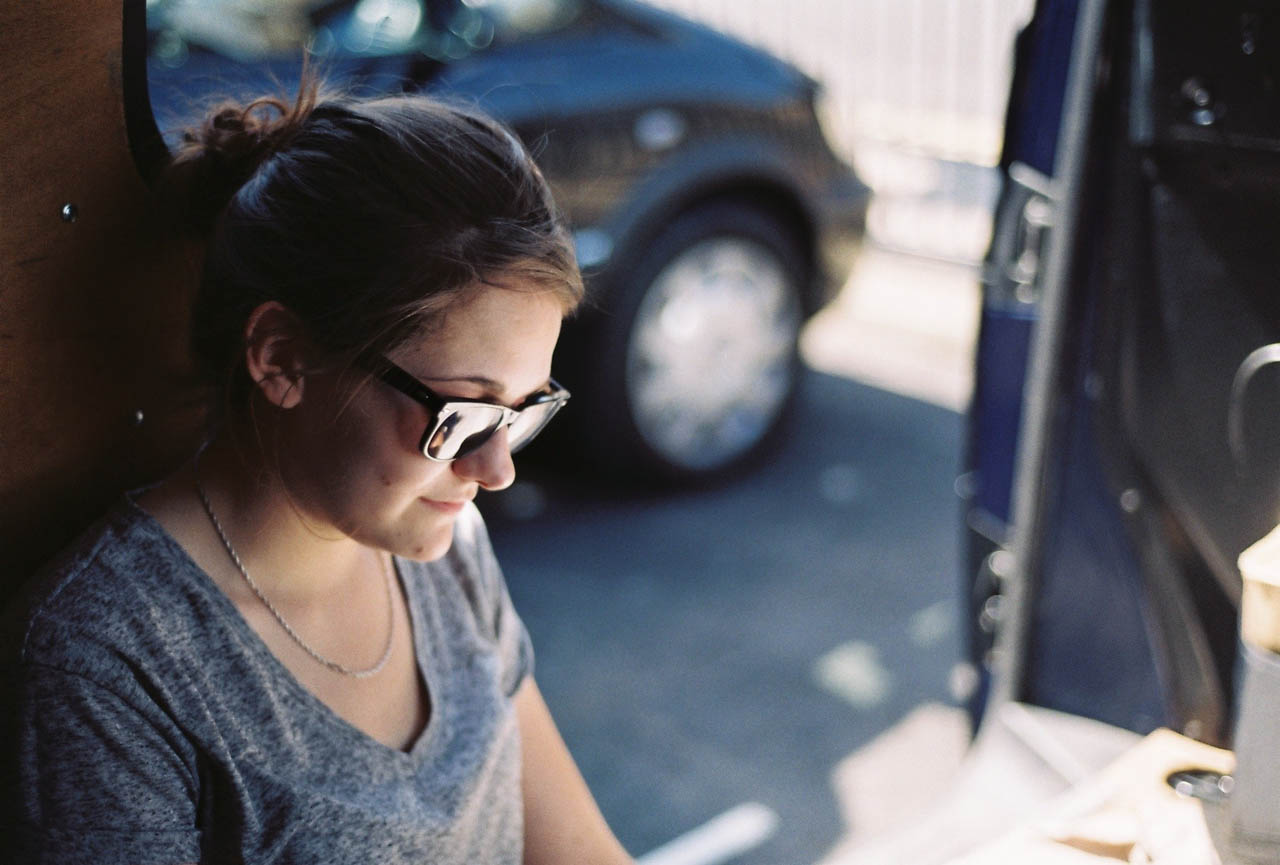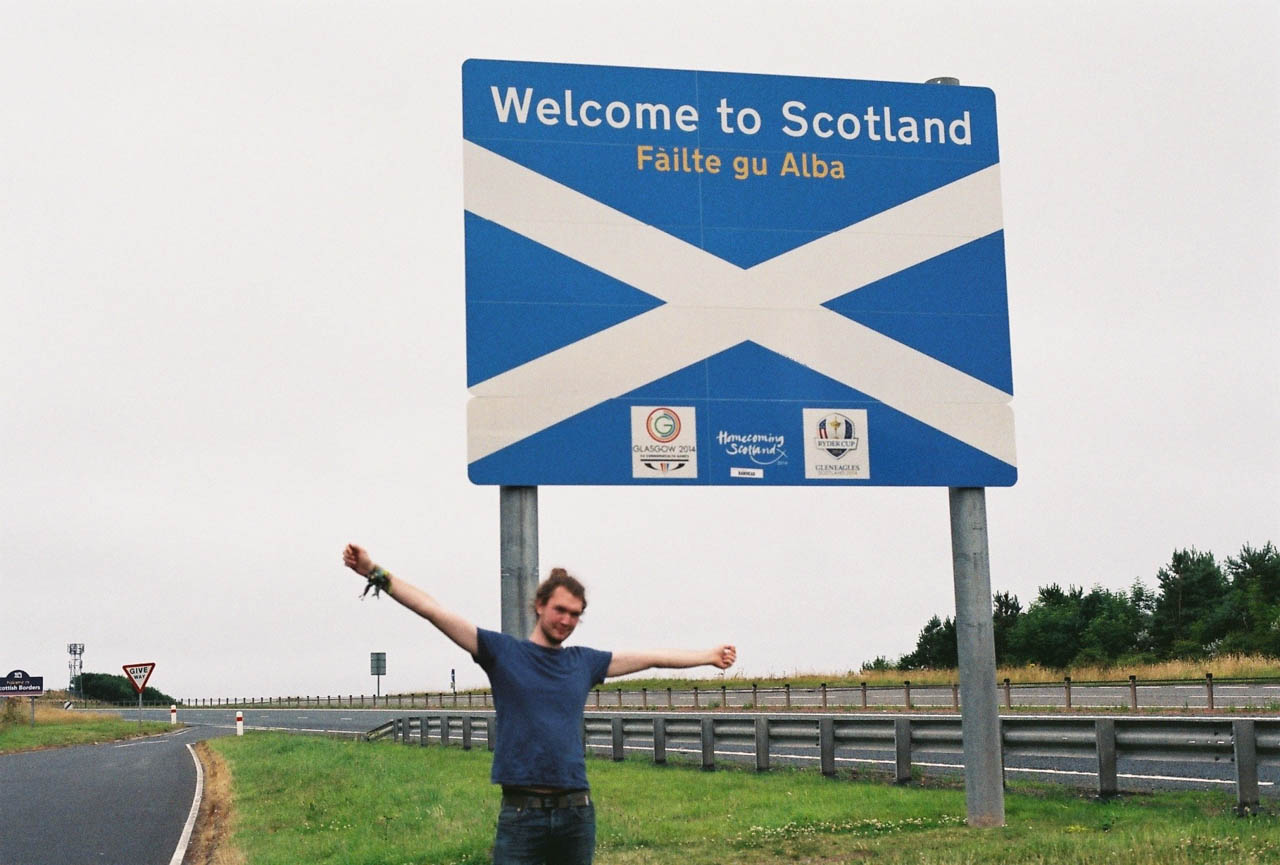 Kendal Calling:
August
Back in London I began staying in a campsite just outside Bexley between August and October, traveling back home in the days off I had. The first part of October I visited Berlin alas without the van however the middle of the month I had a 4 day road trip which combined Chester, South Wales and Cambridge to visit some friends.
Wales with Olly, Ellie & Taron the Land Rover: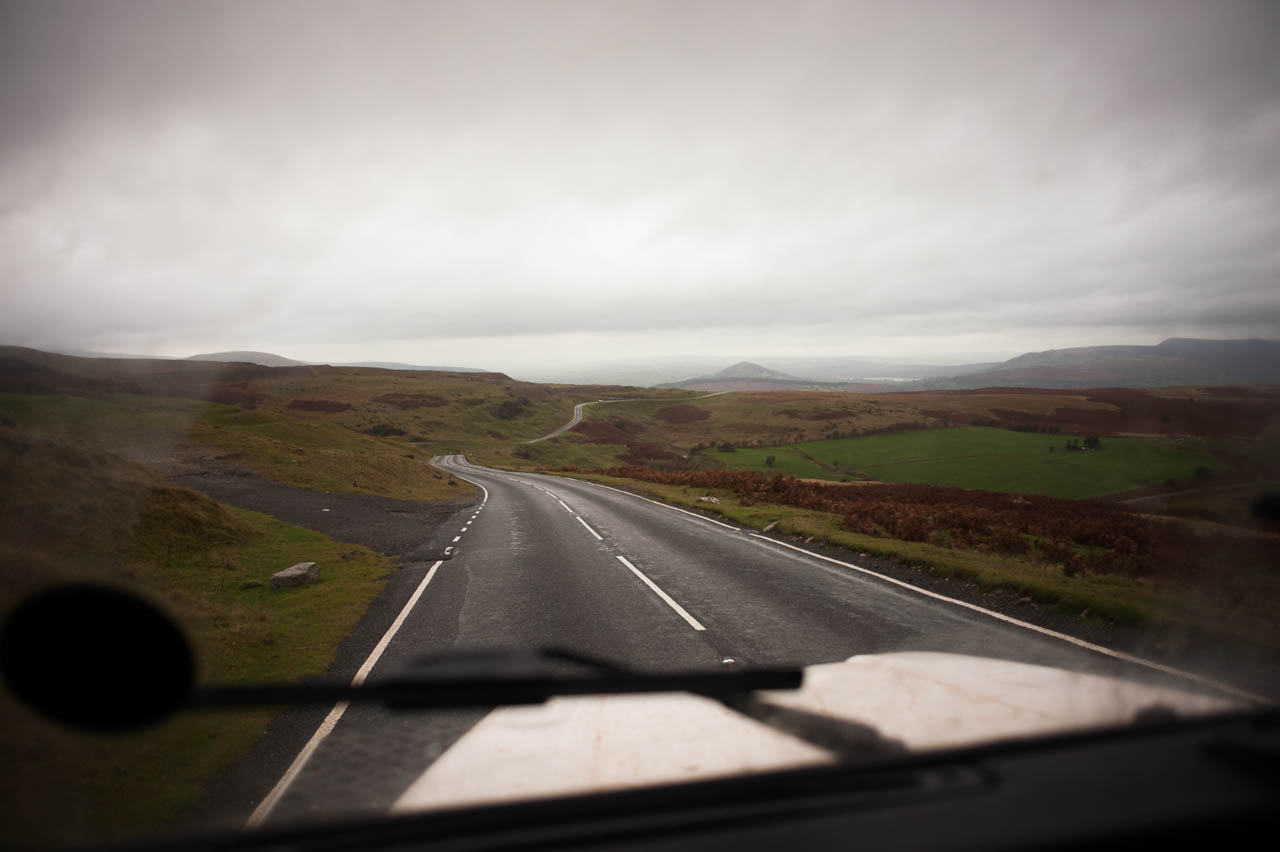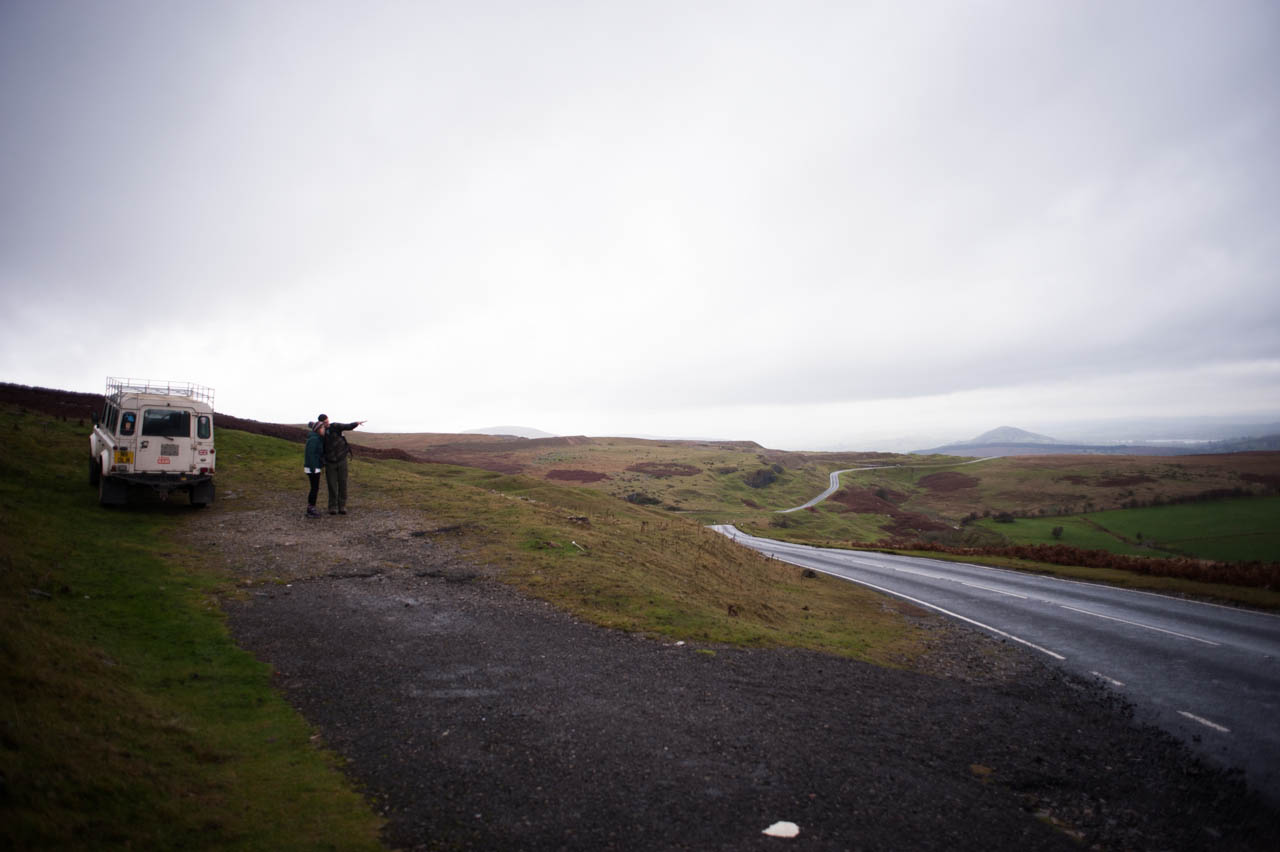 October
By October I had found a few streets near work that were suitable to wild camp in London as such. I would keep rotating locations as to remain fairly unobtrusive. This was considerably cheaper than the campsite. Towards the end of October I spent a week working on the van, adding insulation (silver bubble wrap and hemp fiber battens), a leisure battery, split charge relay, facelifted the van to the newer shaped and serviced it.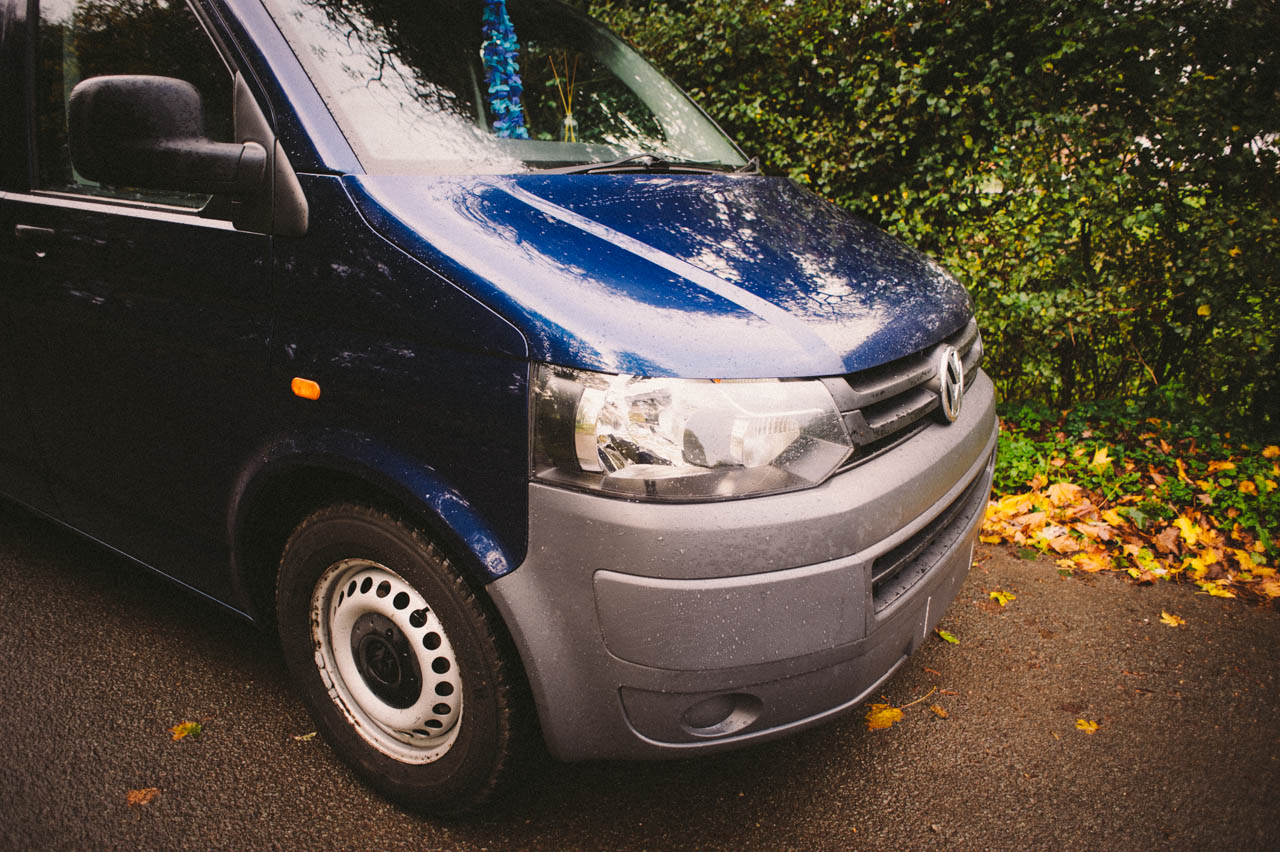 My Mam still not impressed I was living in a van for almost 4 months by now, I tried to find a flat to stay in for the winter months however being able to afford London rents and my van would have left me with no money at all. I bought an Eberspacher D2 Diesel night heater and fitted that in the beginning of November, to prepare for winter. Interior was further tidied up by painting the ply panels and fitting some Ikea Dioder LED lights, wired to the leisure battery and some neat CBE switches.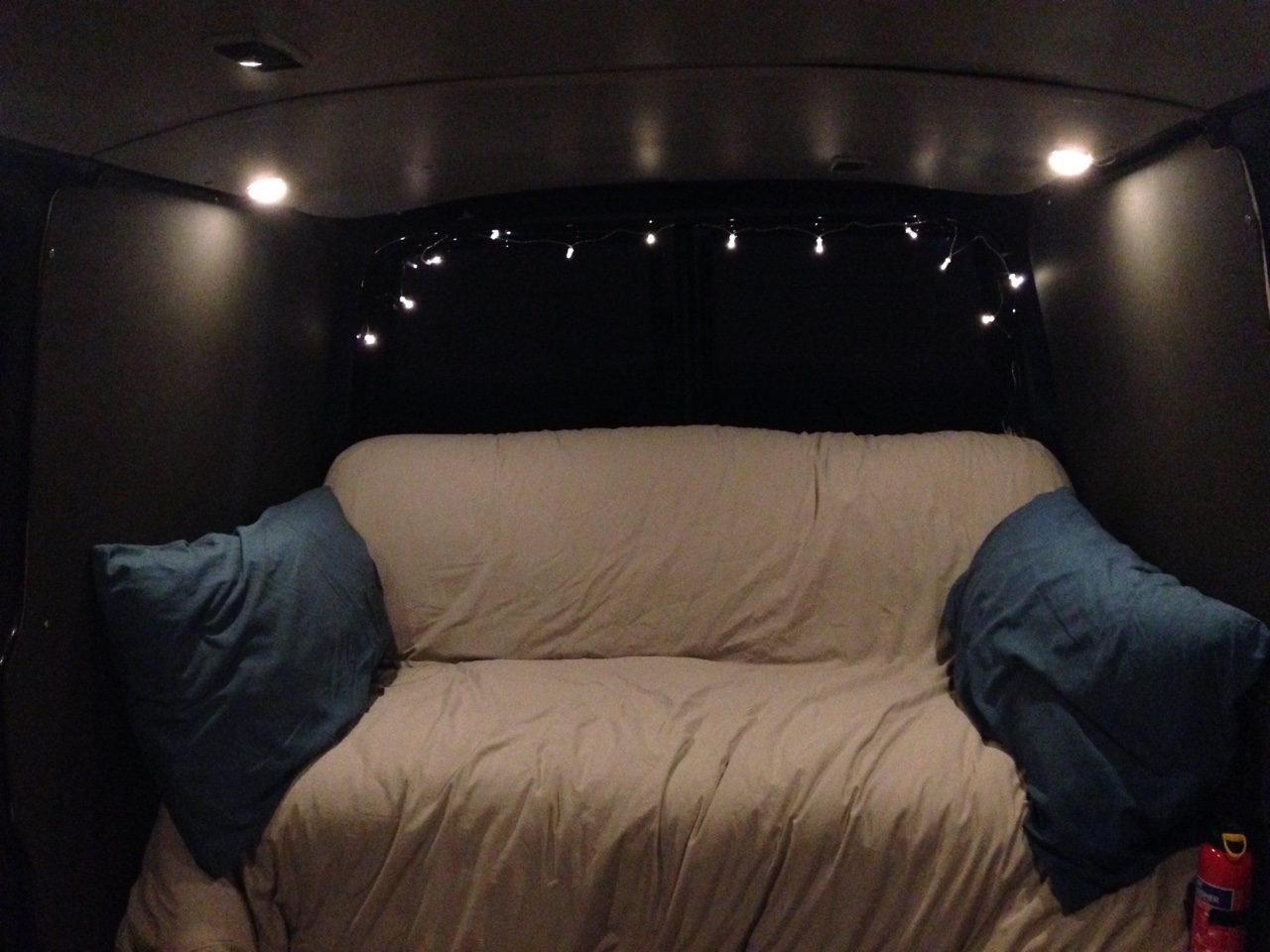 December
Towards the latter end of 2014 I kept on moving around streets in London, turns out it's relatively easy to wild camp in a van that doesn't look anything like a camper from the outside. The bulkhead kept the van secure in the back and the light from leaking out.
With London vanlife in the background, and my very convenient shifts at work (I only worked 14 of every 28 days) allowed the travels to continue. December involved a trip to Edinburgh in which I parked up for the night right beside St Margaret's Loch. Free parking, all day, all night and not that far from the center of Edinburgh. On the way back I visited Lindisfarne which appeared to be a very good place for photos.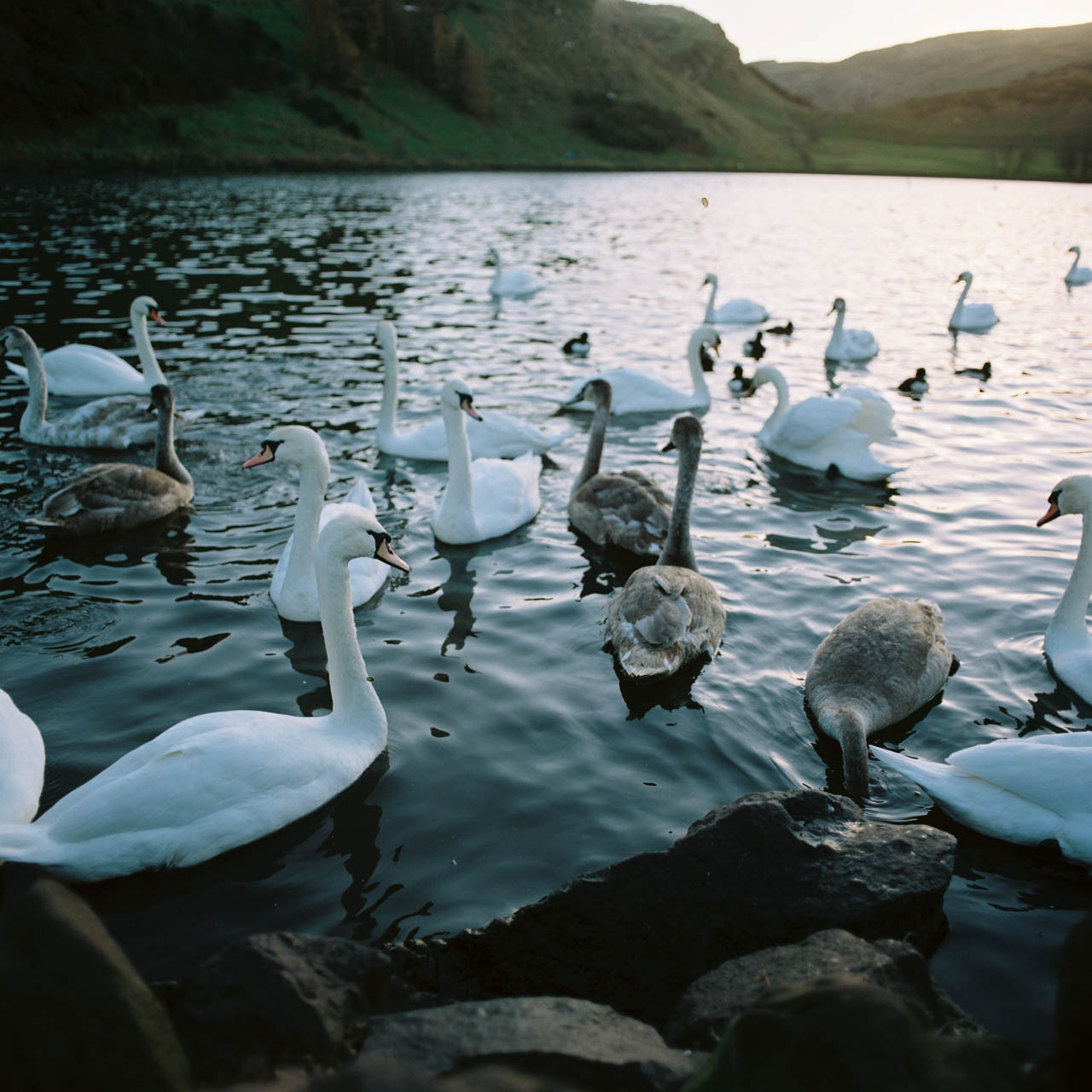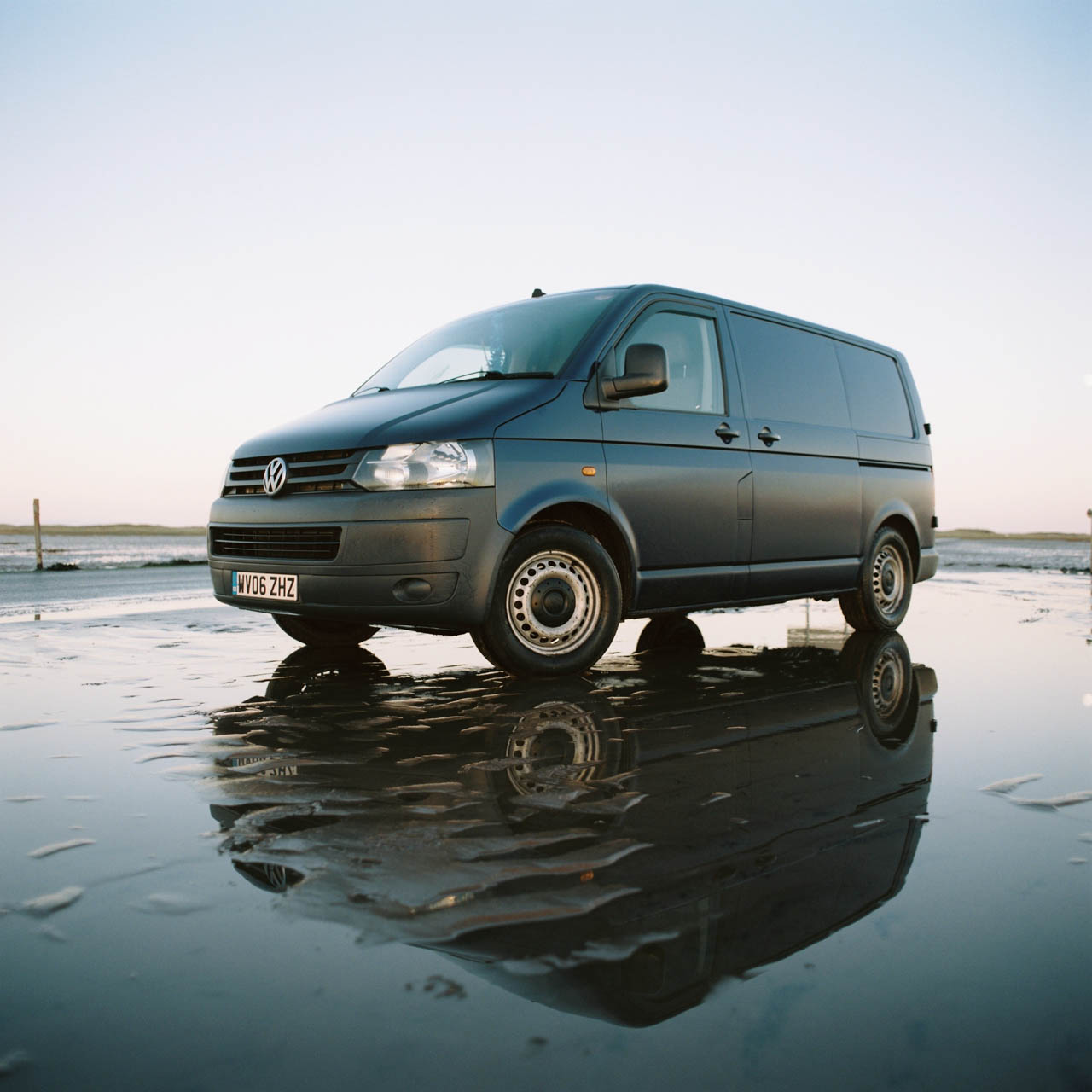 The week after I took a drive from London down to Brighton. There are plenty of streets on the North side of Preston Park providing free parking day and night.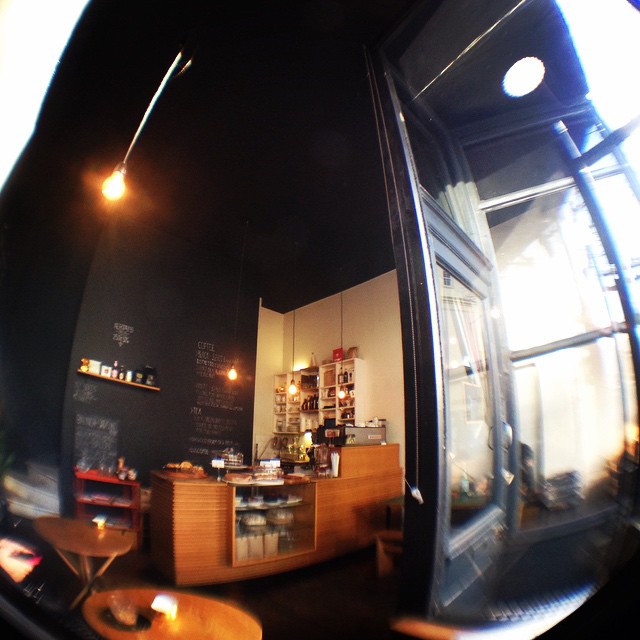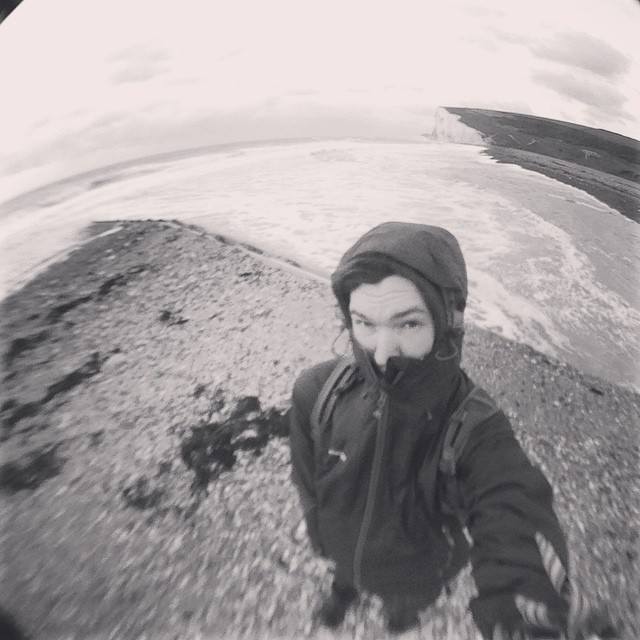 January
New year, new travels. By this point London vanlife had become normal to me, I started to try and rack up as many postcodes I had stayed in, however only managed a few before things got harder. They were: E1, E2, E3, E5, E6, E14, E15, E16, N1, SE10, SE13, SE16, & WC1. You can park almost anywhere in London for free after 6:30pm, until about 8:30am. I used an app called AppyParking which gives info of free parking all around London. Always plan toilet breaks, there's less trees to go behind in London when you need to go at 3am however there are a lot of 24/7 McDonalds. Friends both intrigued and perplexed by my new lifestyle allowed me to use their showers which was very helpful.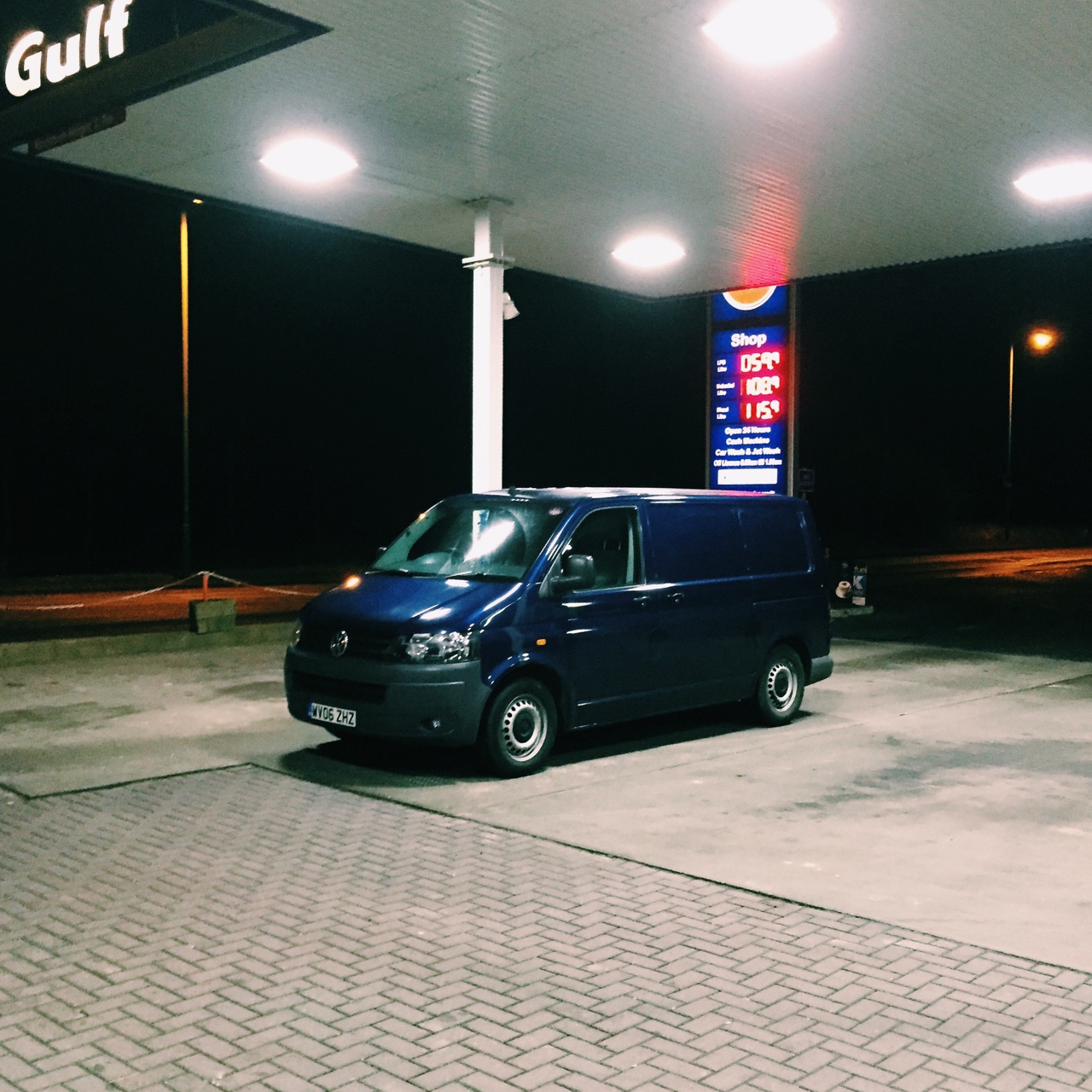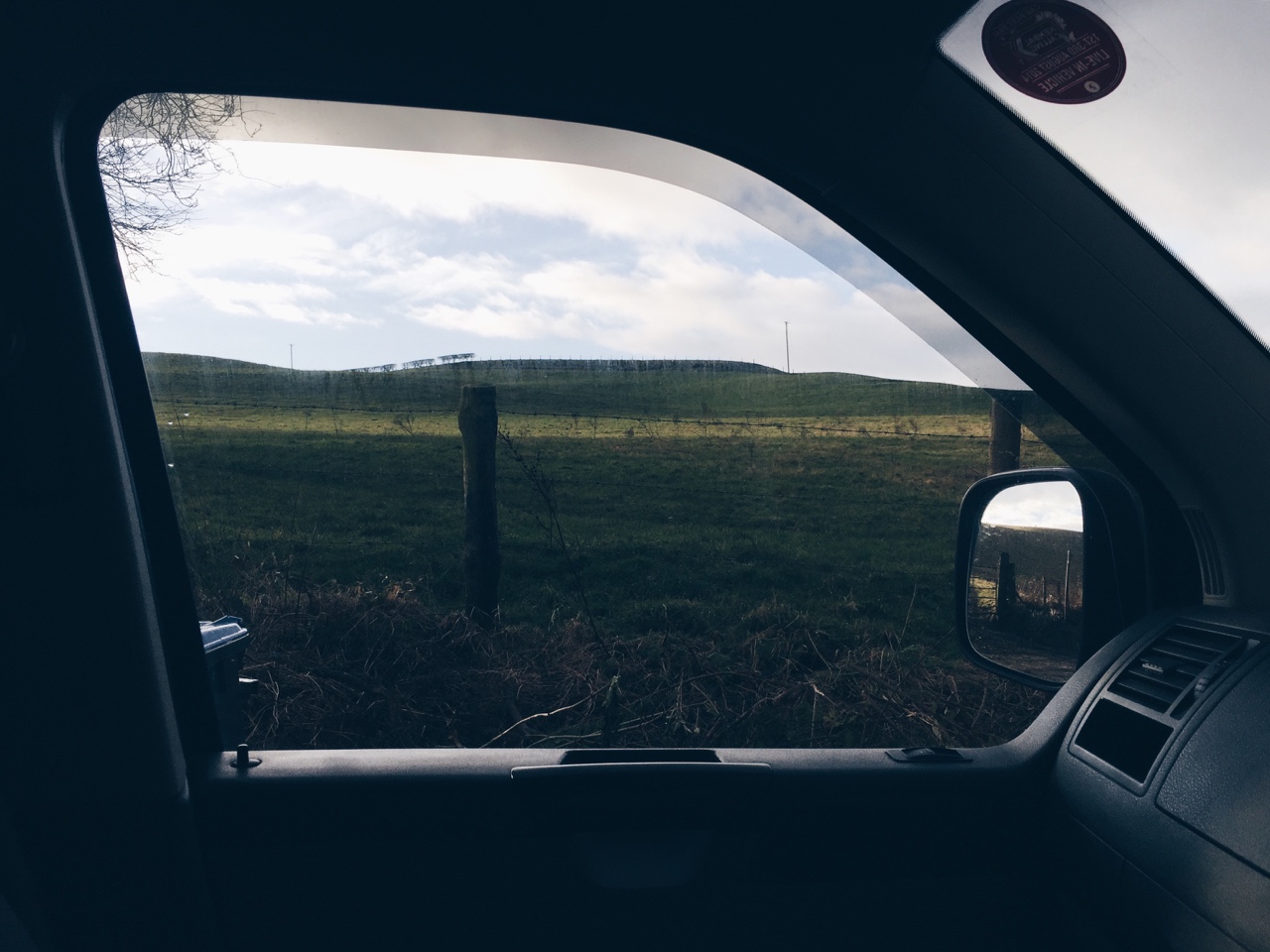 Towards the end of January Sam from work and I planned a roadtrip to Paris. Once on the other side of the channel in Dunkirk, we took a left turn towards Amsterdam due to the recent attacks in Paris. The first night was spent parked outside of Zeeburg campsite as we arrived too late to check in as we stopped off in Bruges to explore. Day 2 we checked into Zeeburg campsite and wandered Amsterdam. Day 3 we woke up in Amsterdam and went to sleep in Paris outside of Indigo Paris Campsite. Day 4 we explored Paris visiting Ten Belles, Das Boot and the Eiffel Tower. As we couldn't get a place in the campsite we left Paris that evening to find somewhere to stay ending up in a small village North of Paris. Day 5 began with buying a lot of bread from a French bakery and making a leisurely drive to Dunkirk for the ferry via Lille.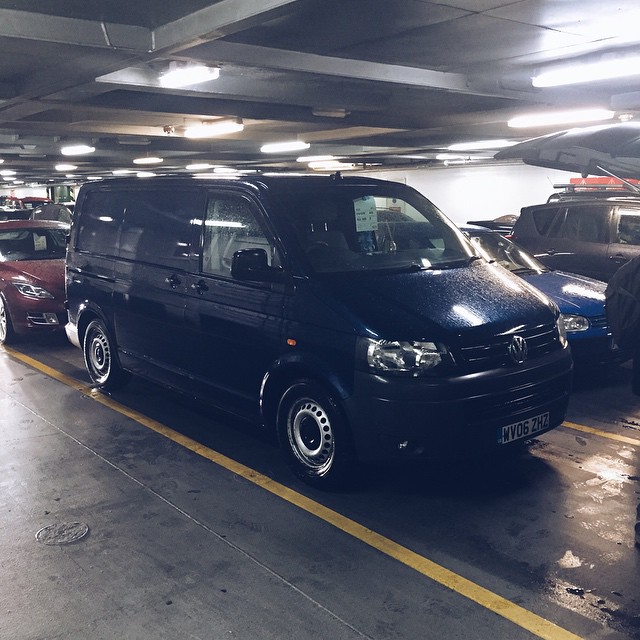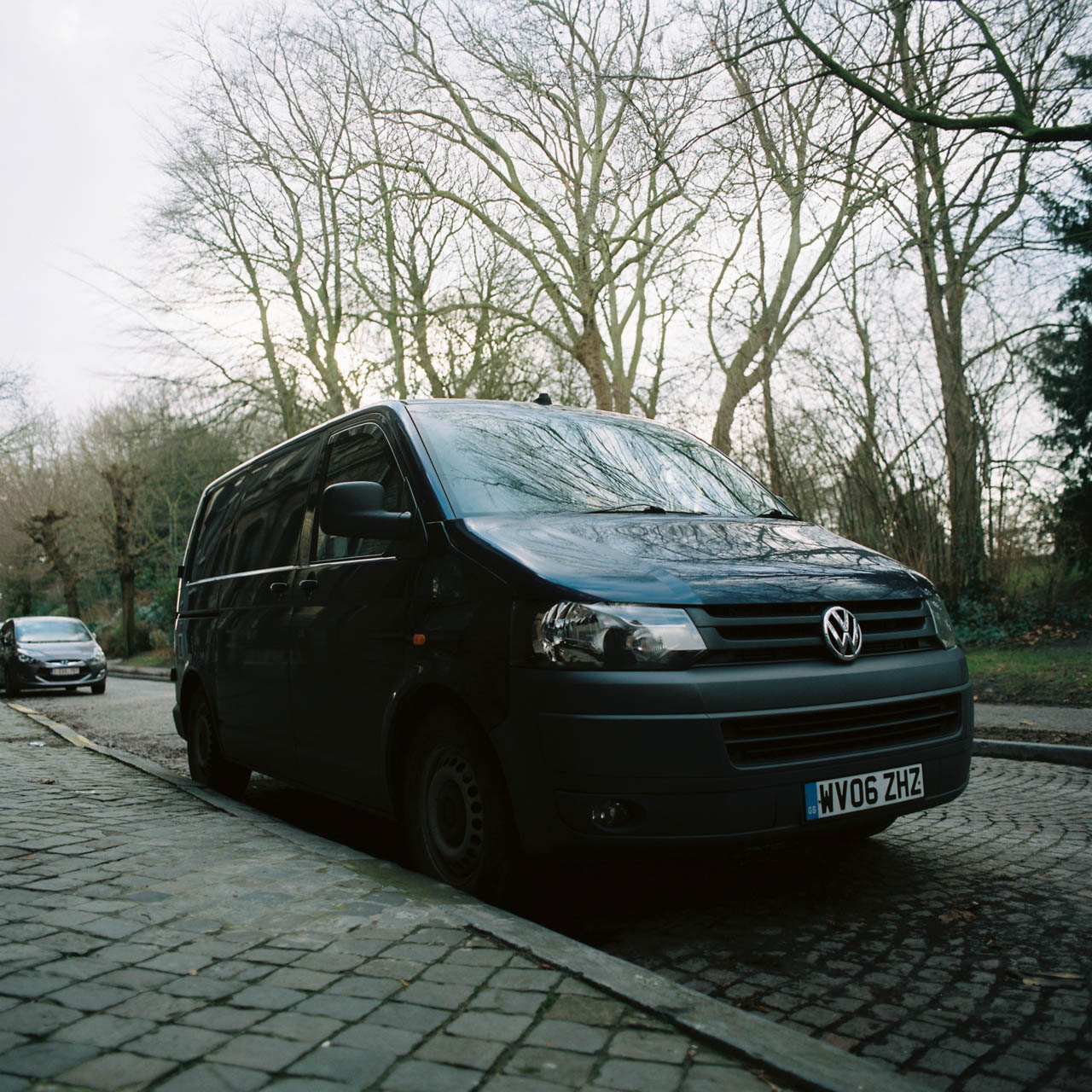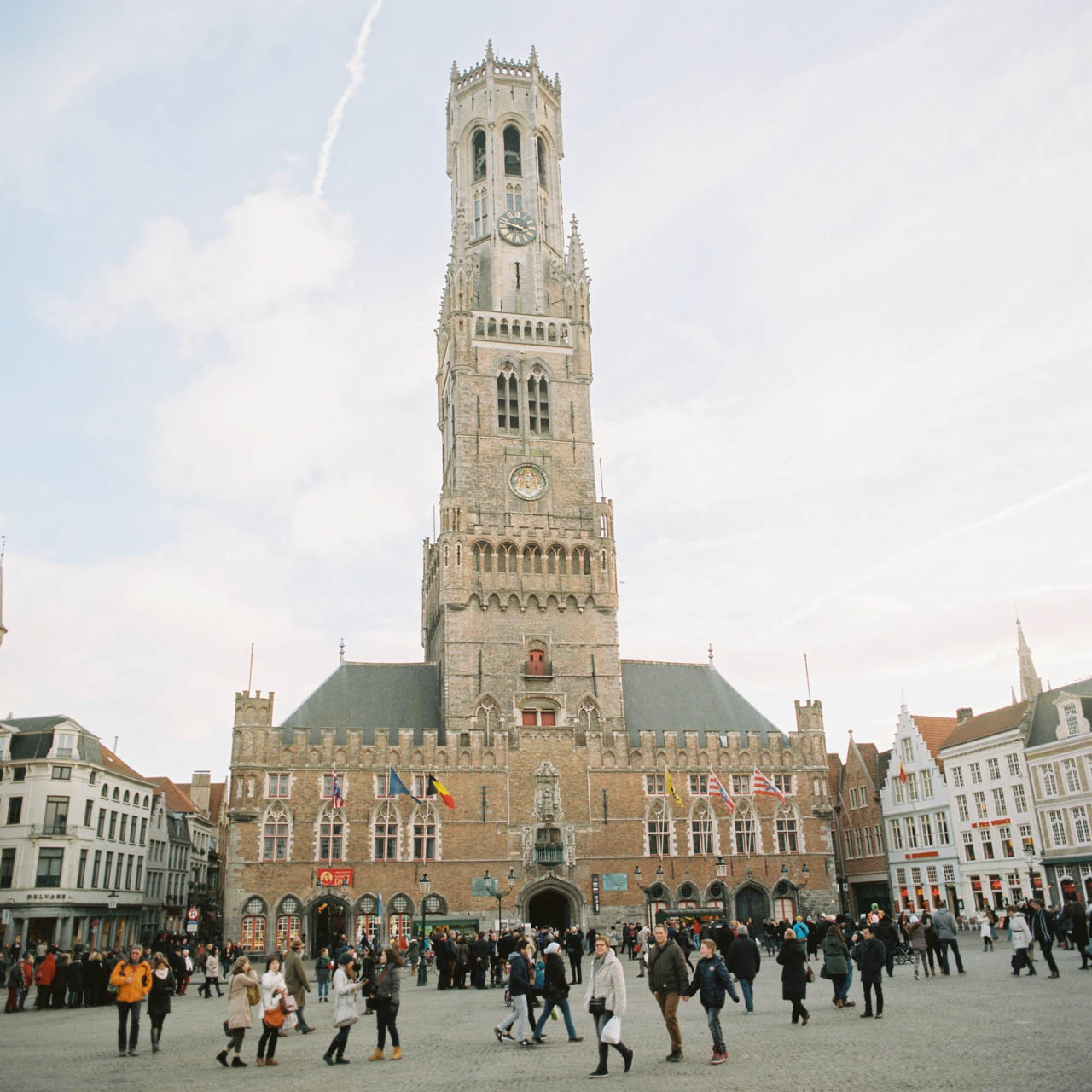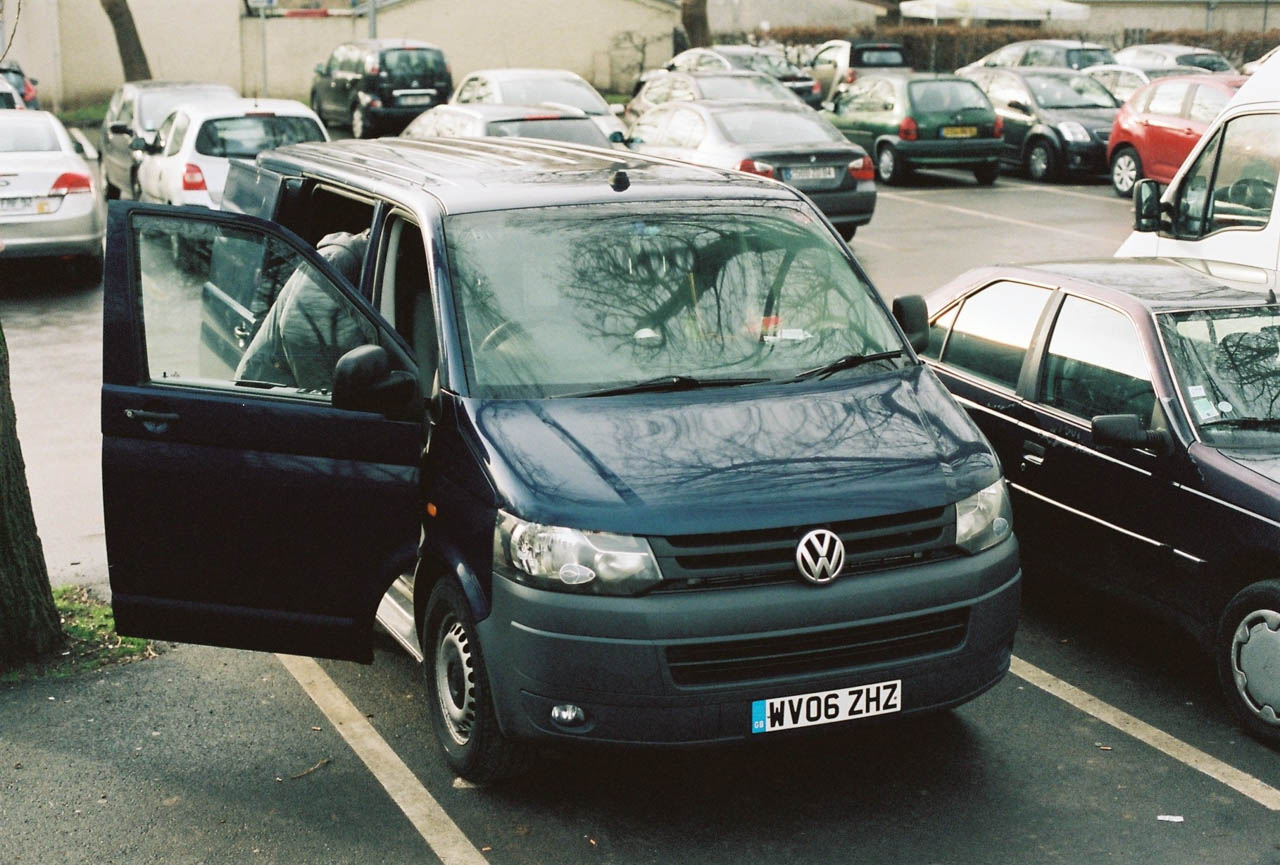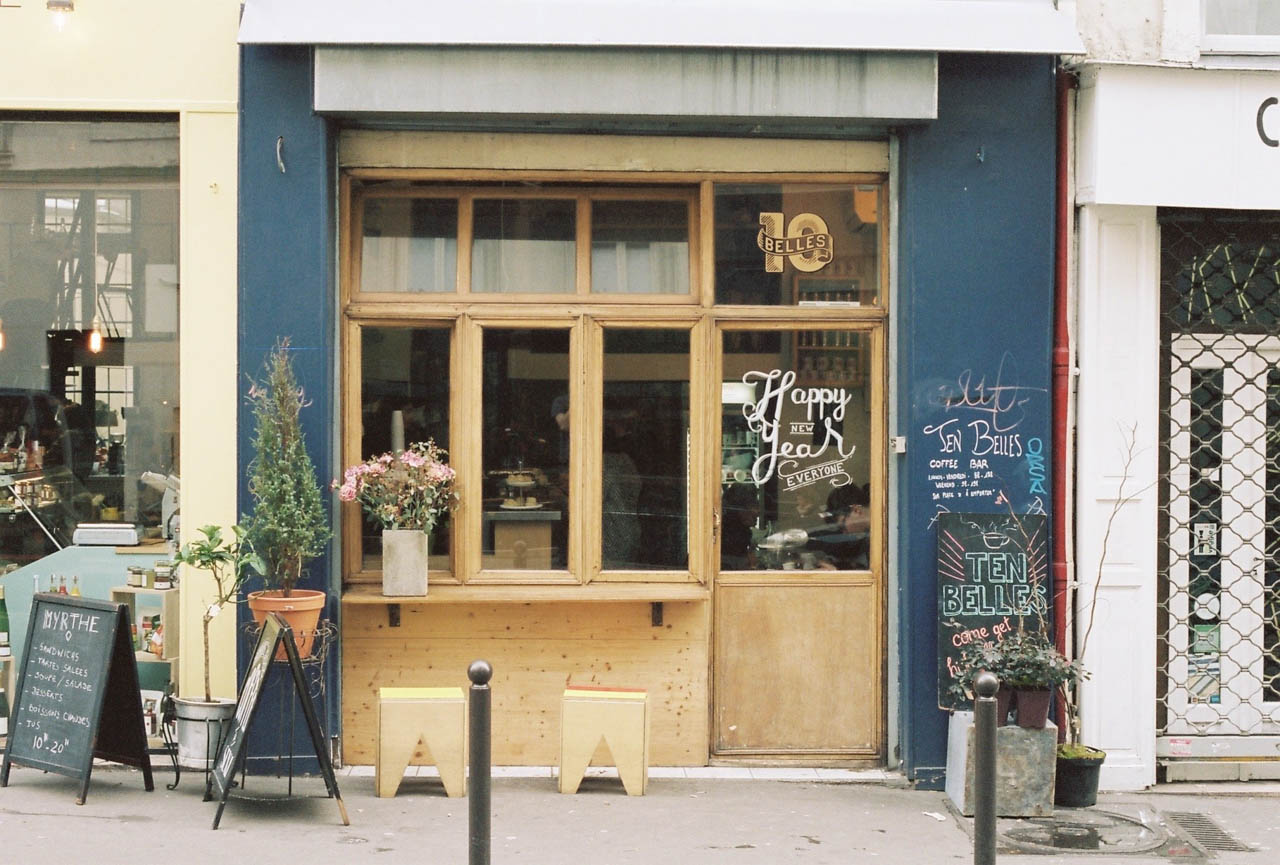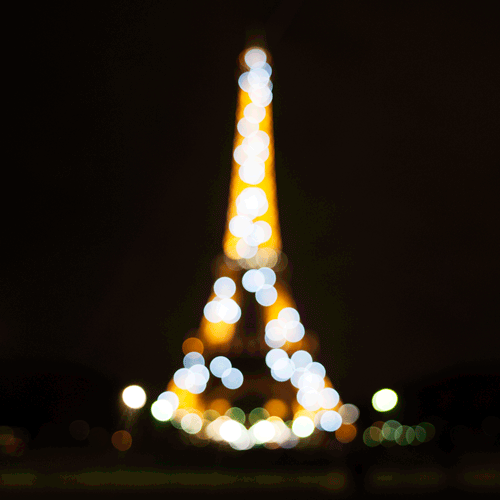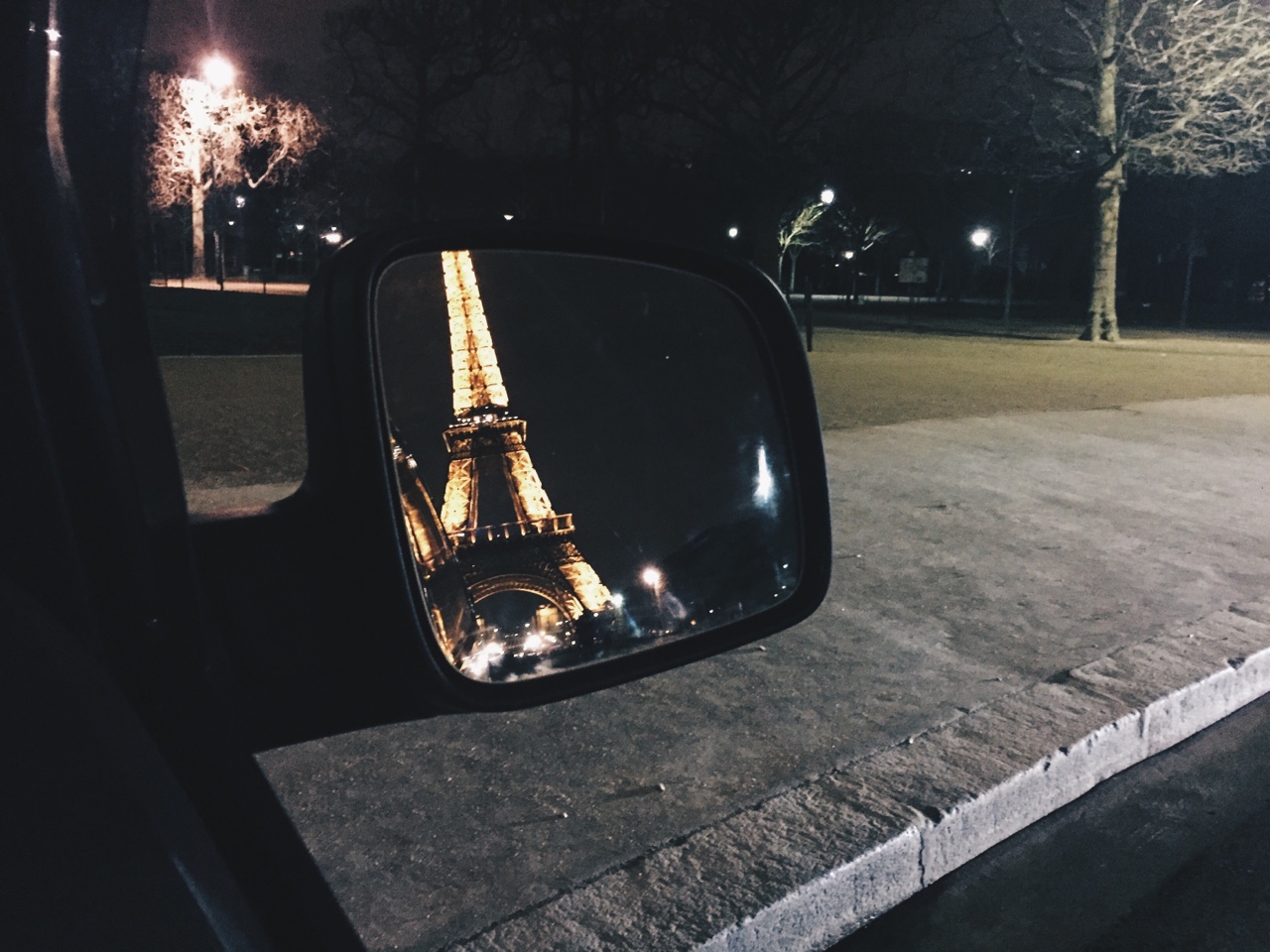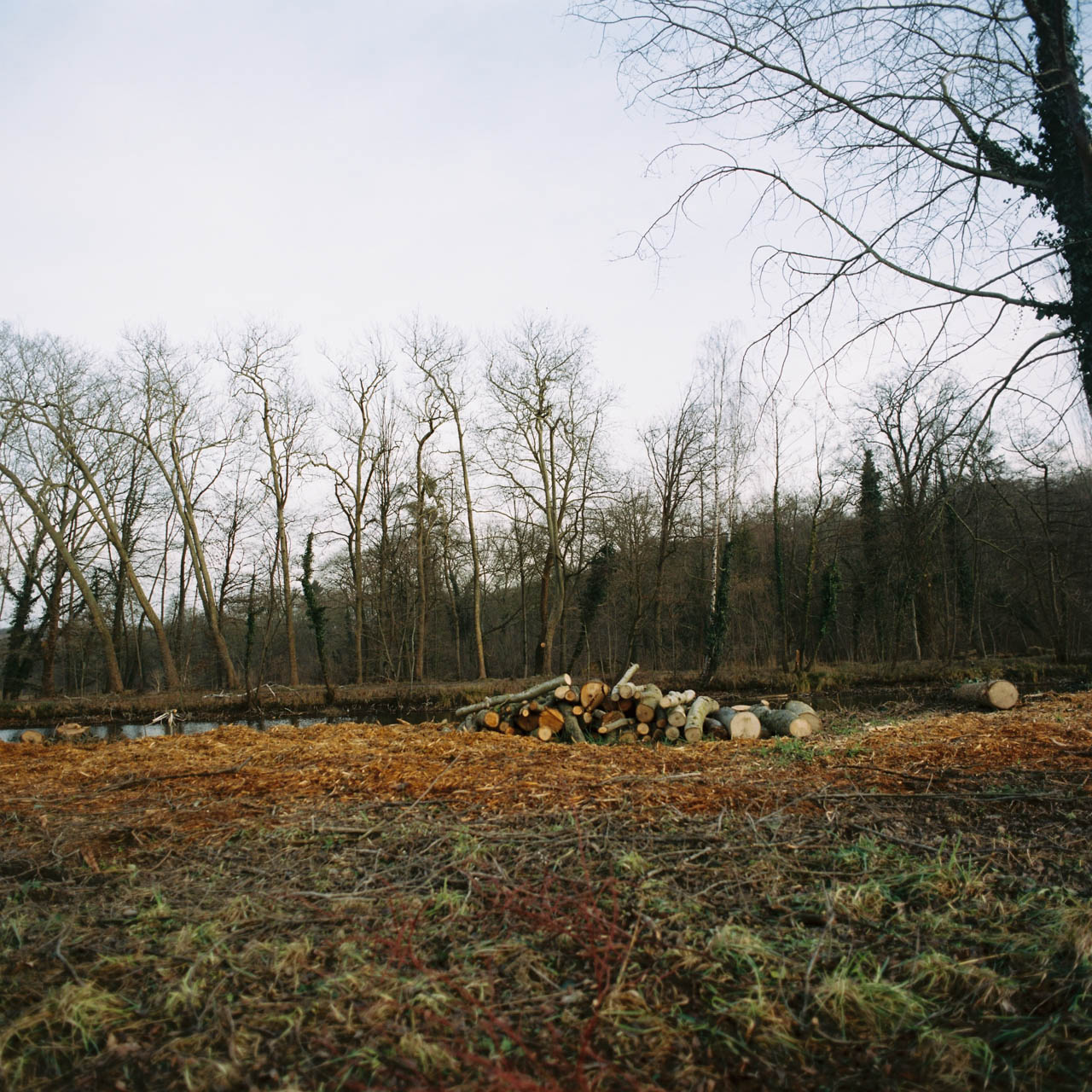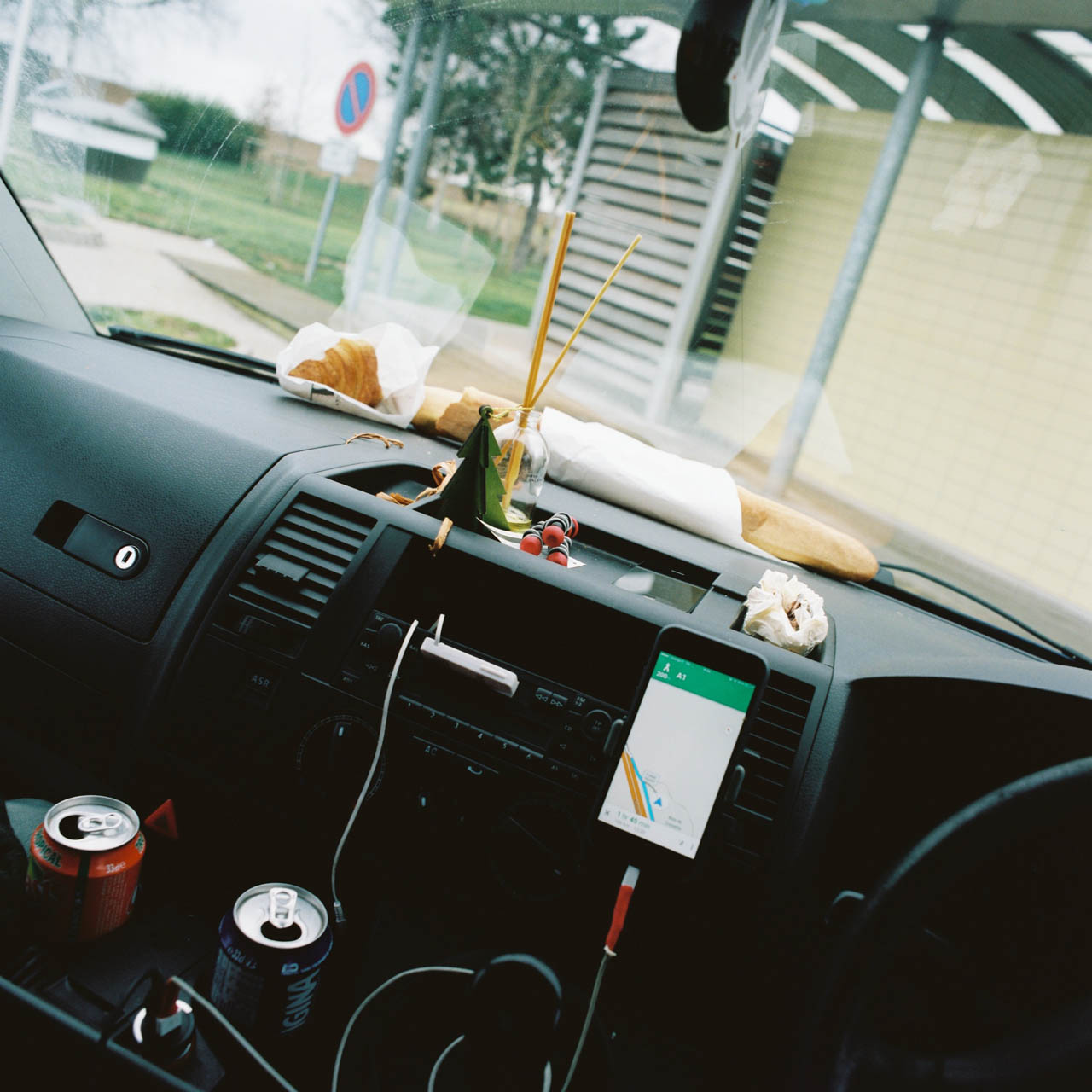 February
1,200 miles later we were back in London. The weather was getting colder however my heater that I had fitted made the 0c nights not an issue. My van experienced its first snow in my ownership in February.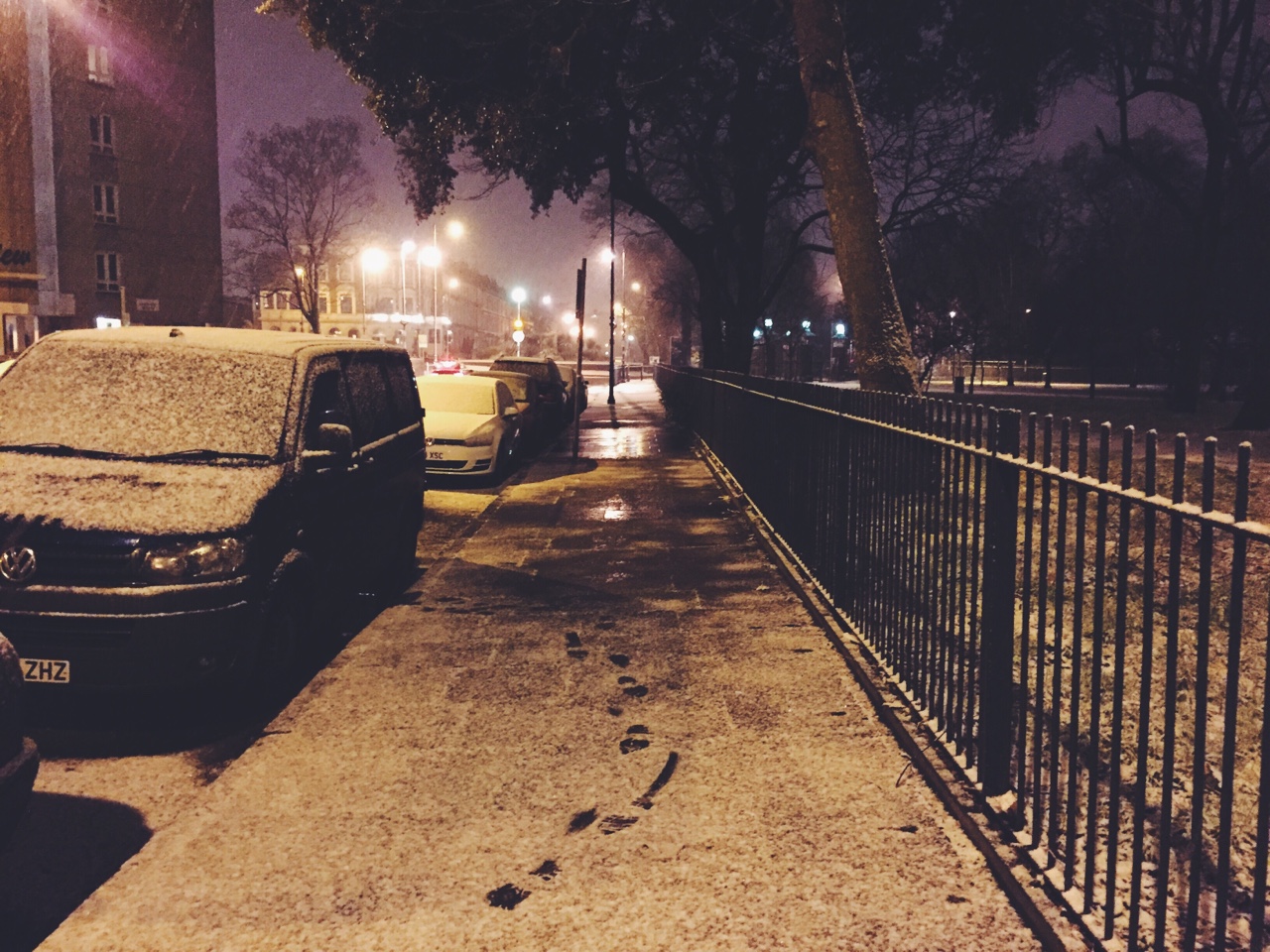 Later in February drove across to Wales to wander mountains again with Olly & Ellie. No vandwelling in Wales as Olly kindly put me up for the night.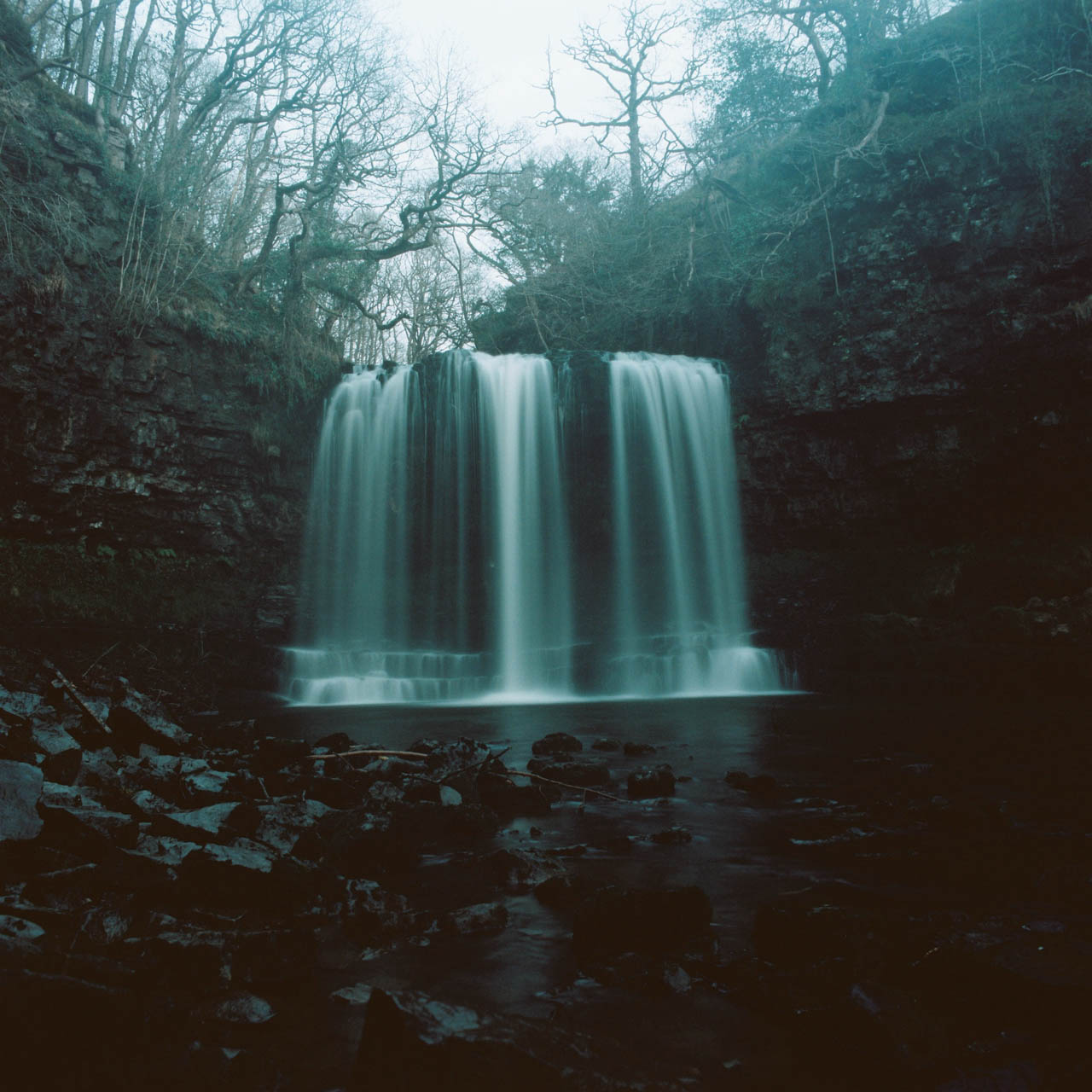 At the end of Feb I went out to take photos with Hayley but it was absolutely freezing, we stayed the night in Alston but returned the next day after failing to get to the Llama Karma Kafe as the roads to Penrith were too icy.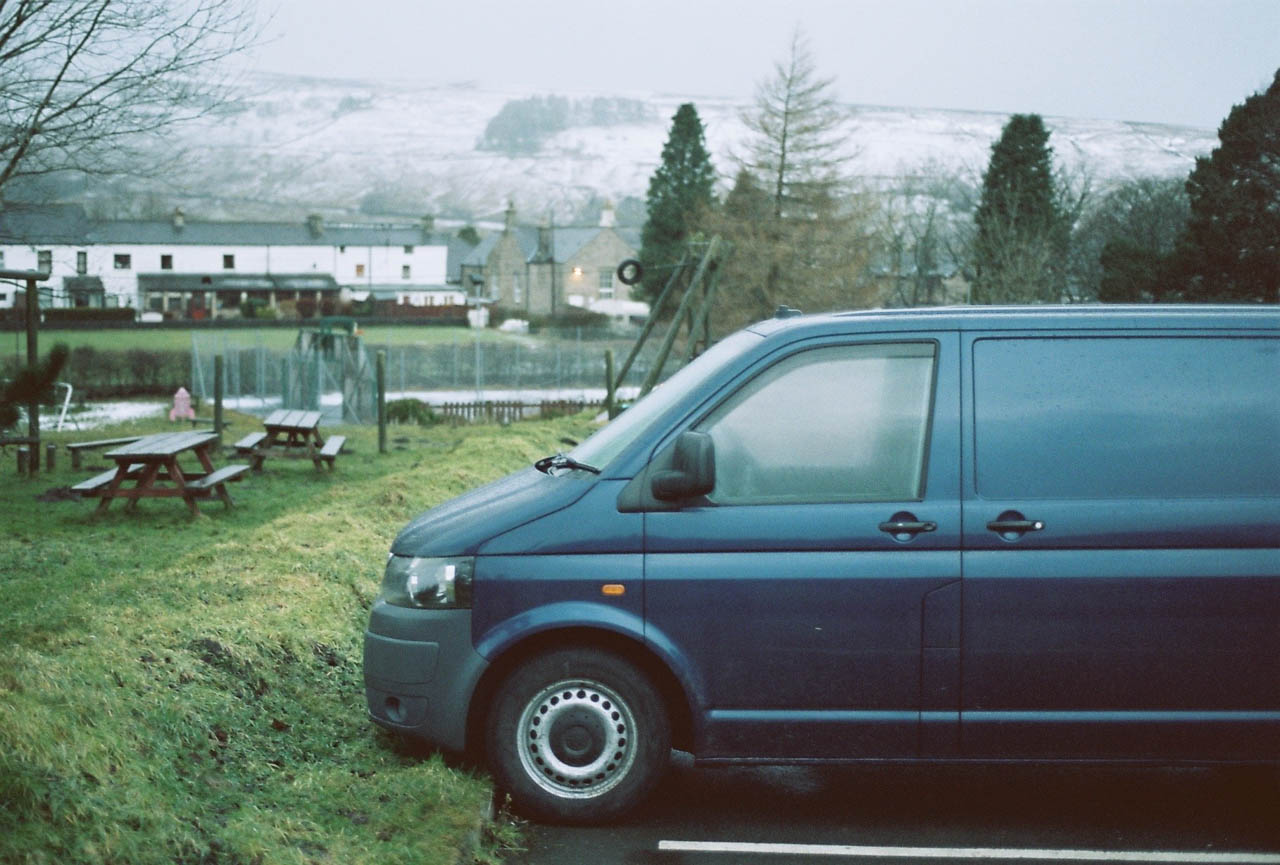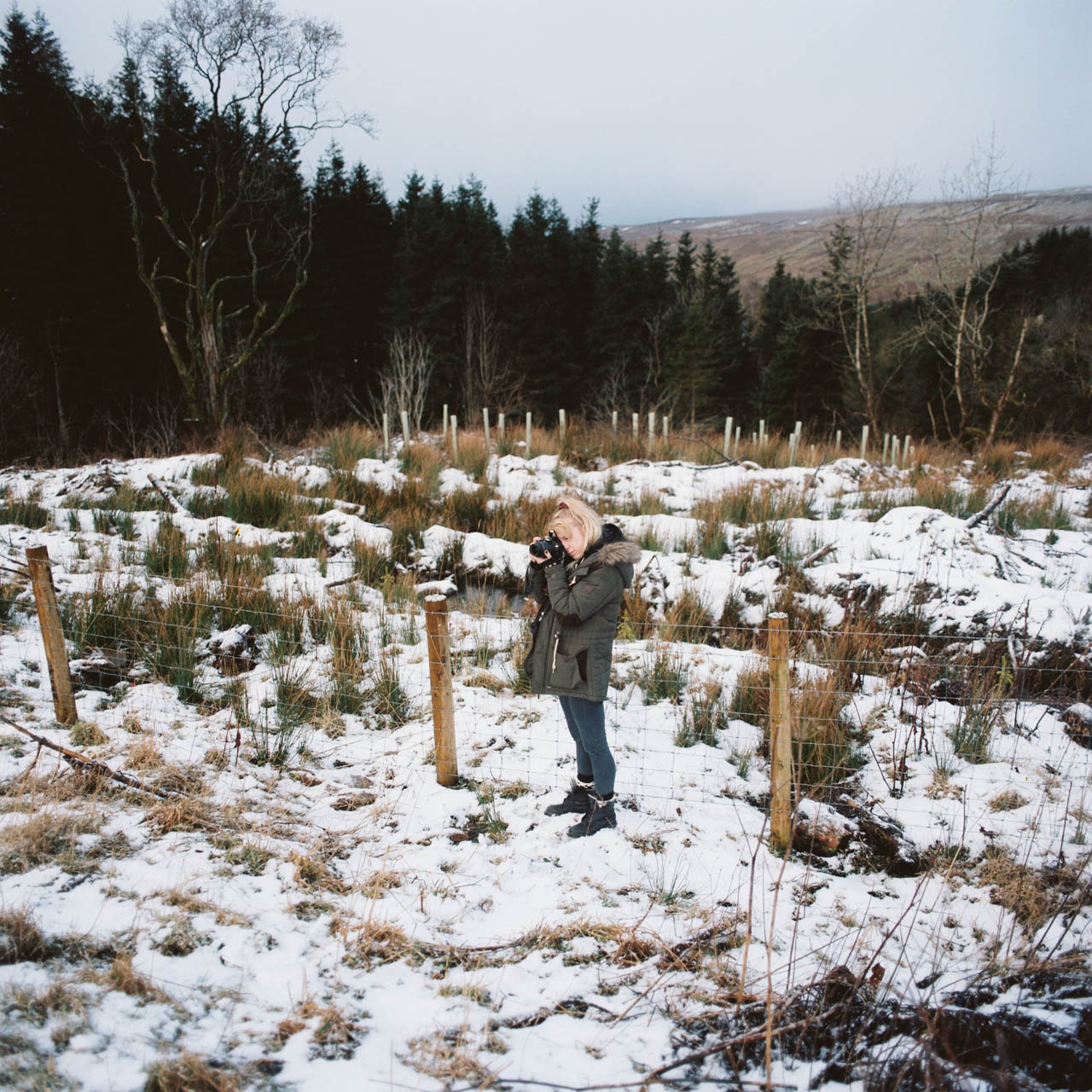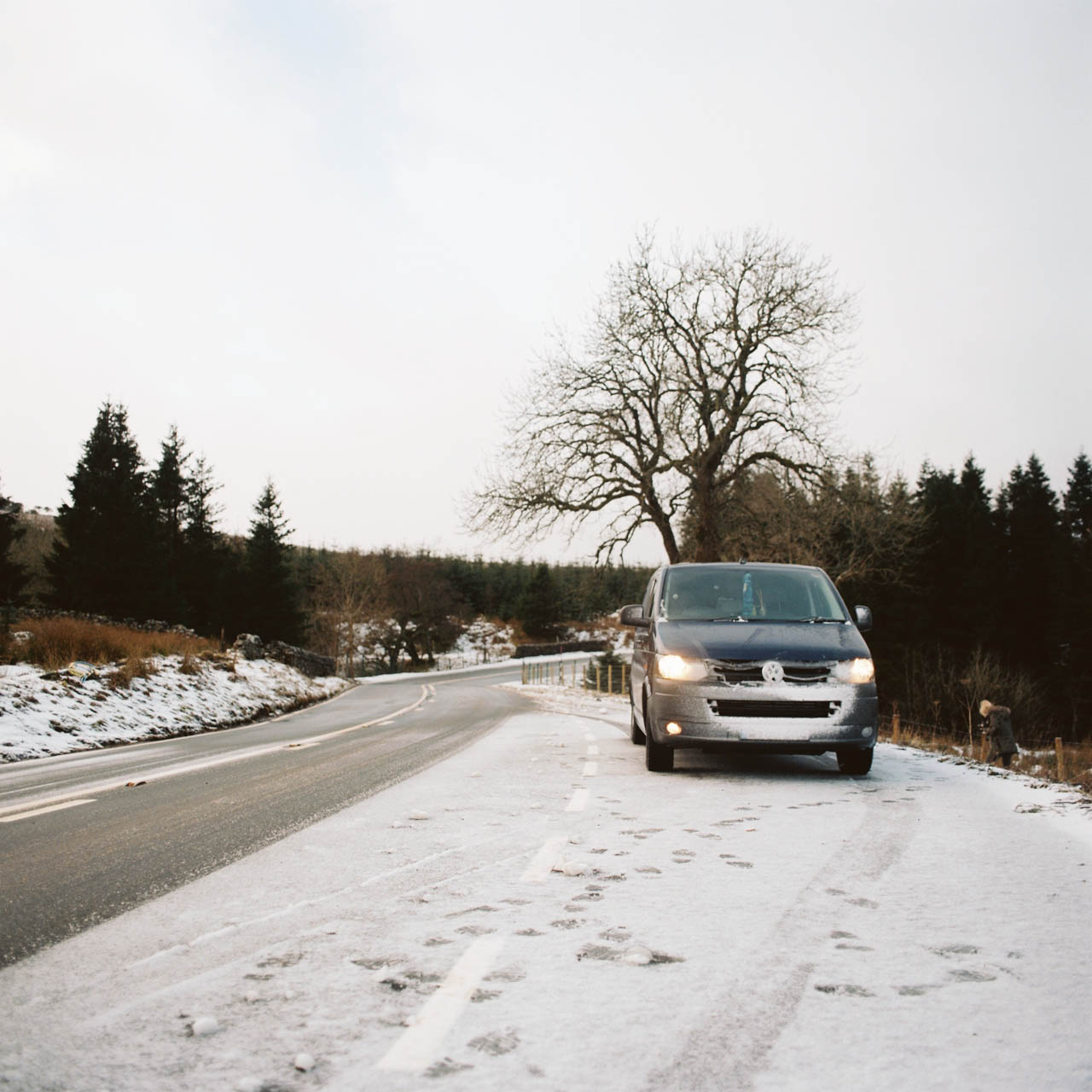 March
March began the festival season preparation and as such the van required "fitted washing and cooking facilities". I designed a kitchen pod that incorporated a camping stove and as small sink passable basin. The pod was made from 12mm birch plywood from Fall Timber in Bedale.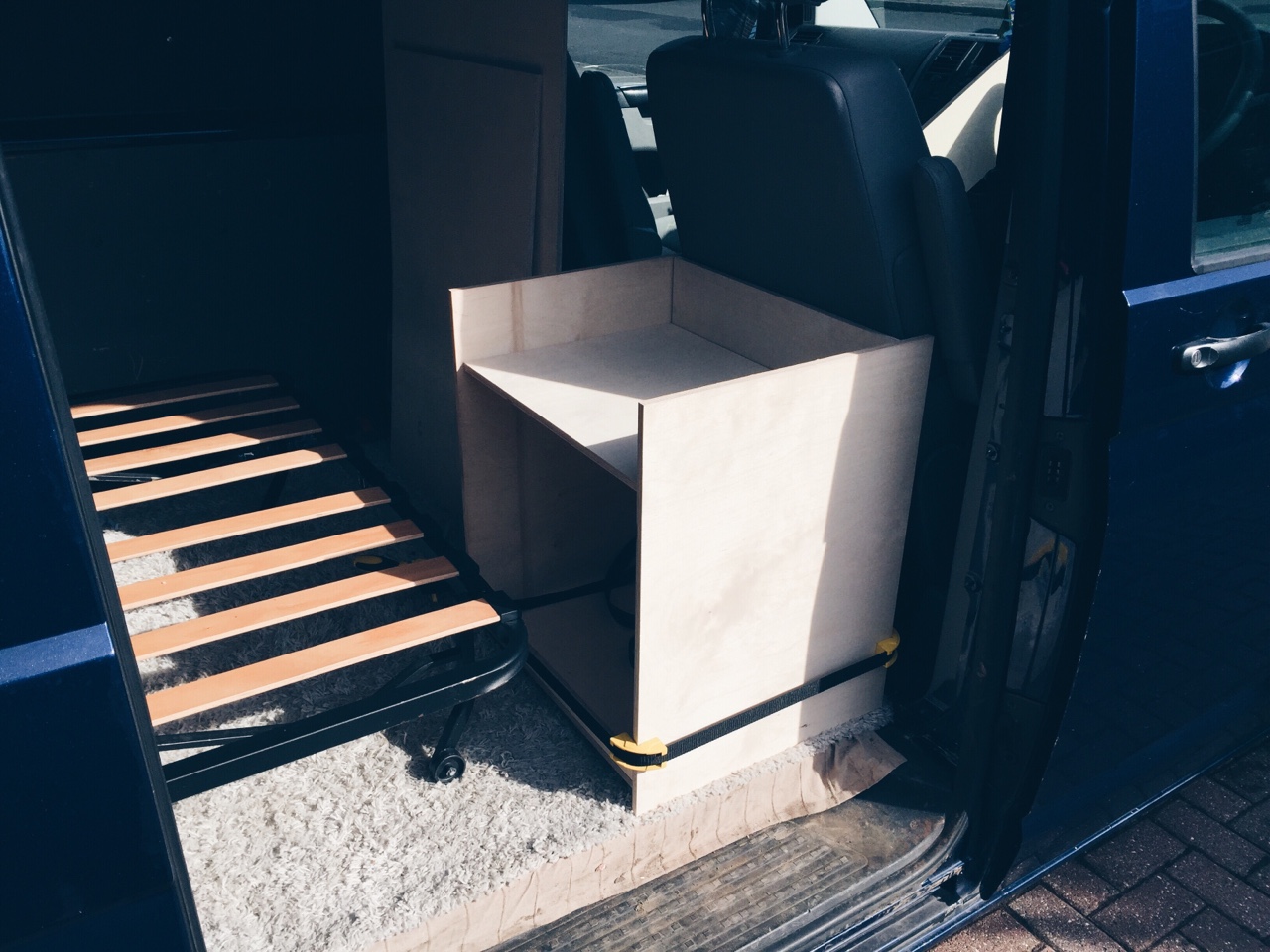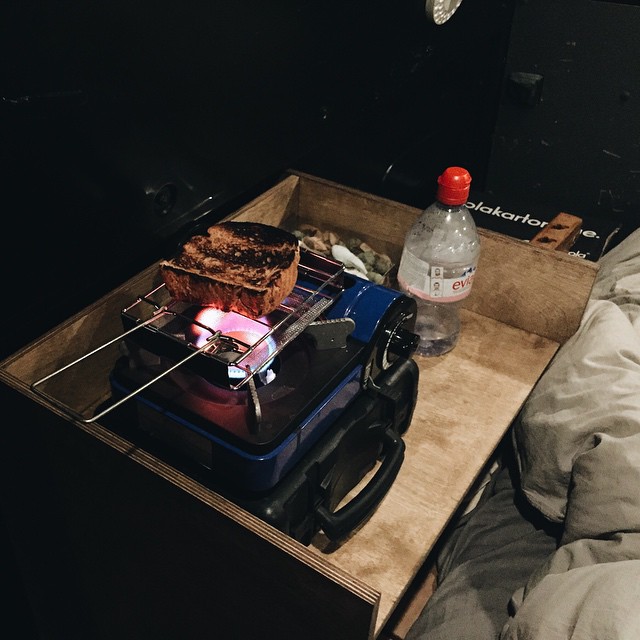 Wiring was the next job to tackle, I fitted a Blue Sea Systems 5029 fuse box to some ply behind the leisure battery in the seat. And replaced the current wiring with some 1mm2 thinwall auto cable.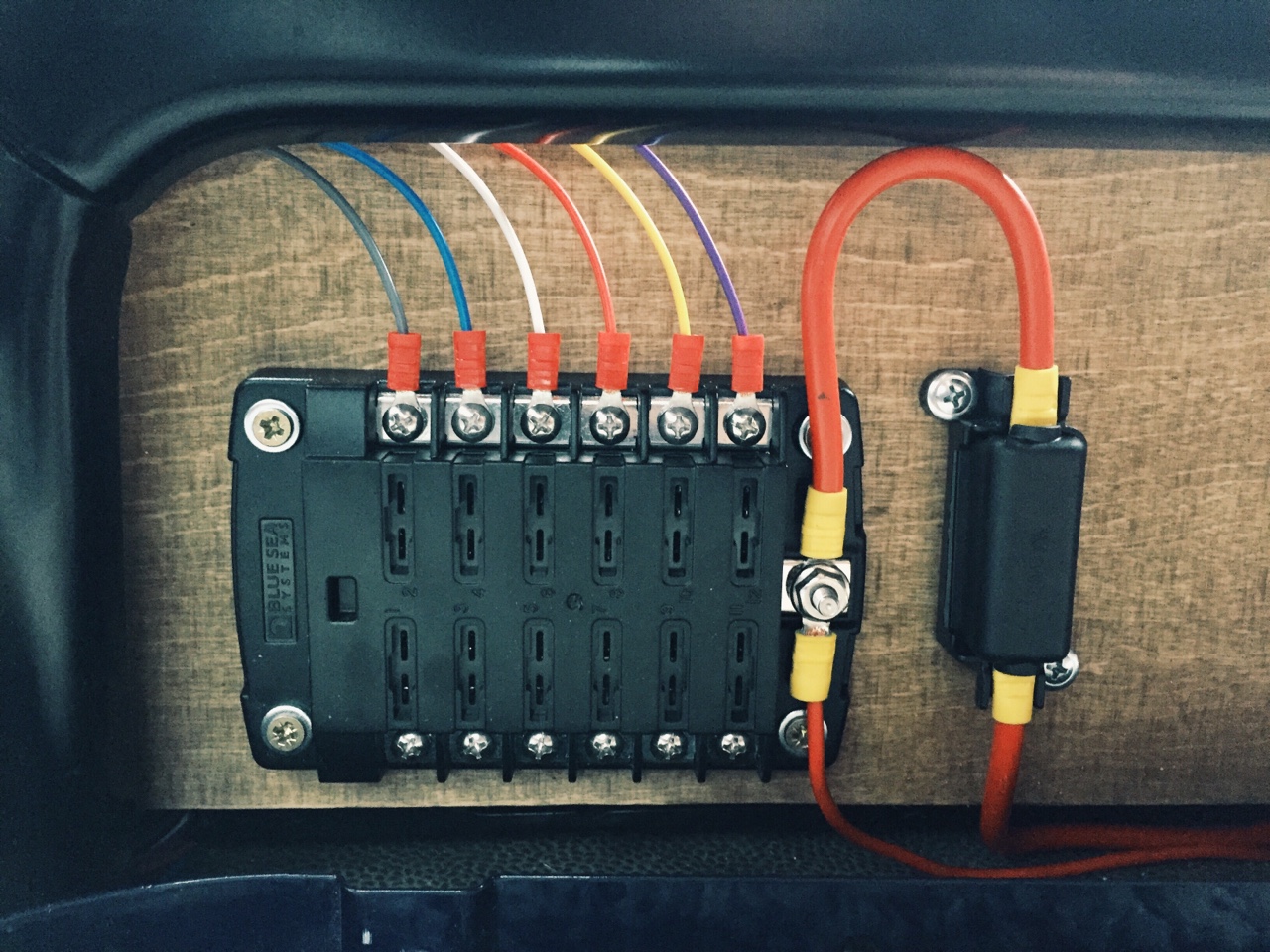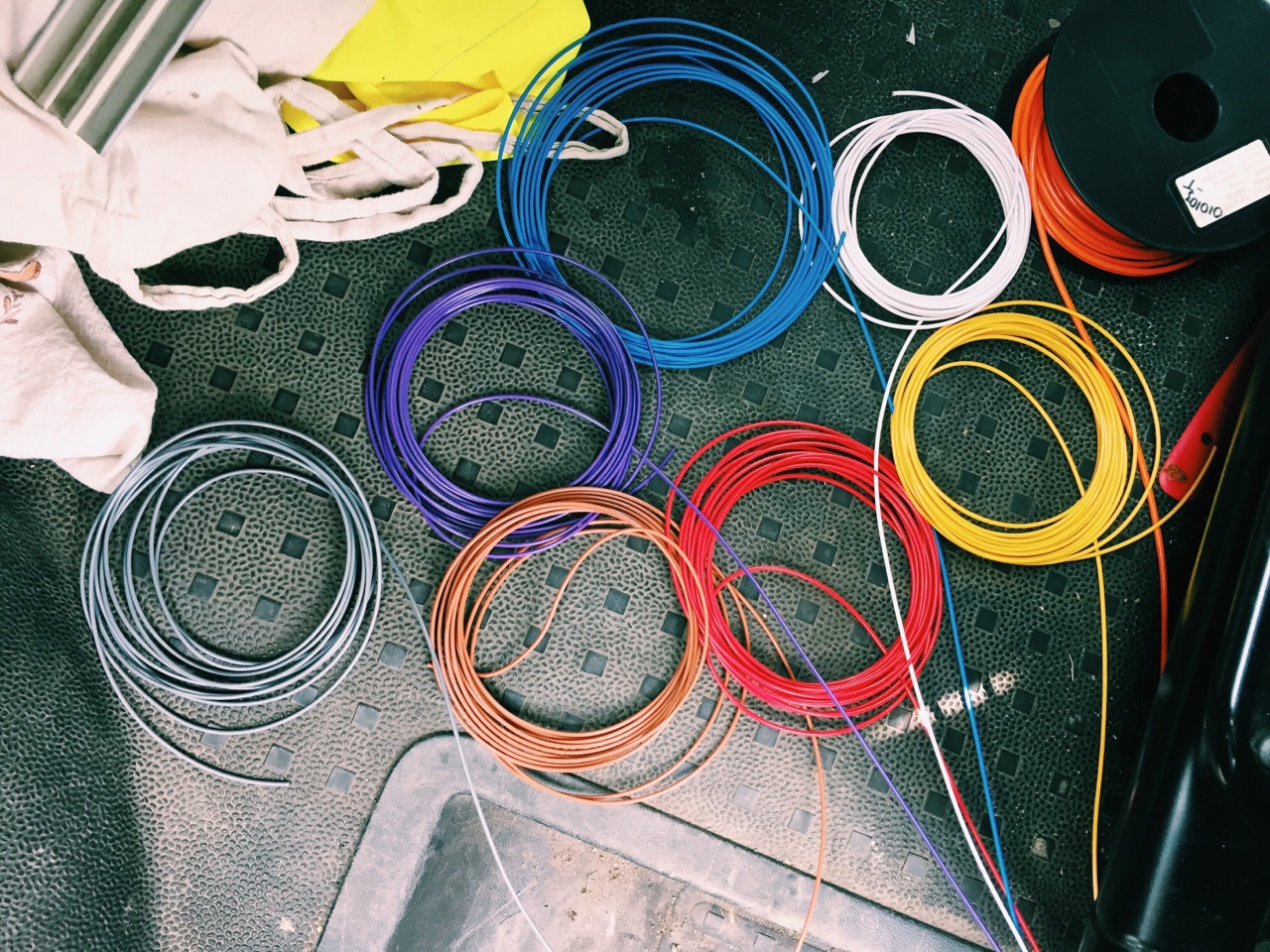 April
In April Steve and I went to an Instagrammers London meetup at Blenheim Palace and we both took our vans. And took photos of stars that night.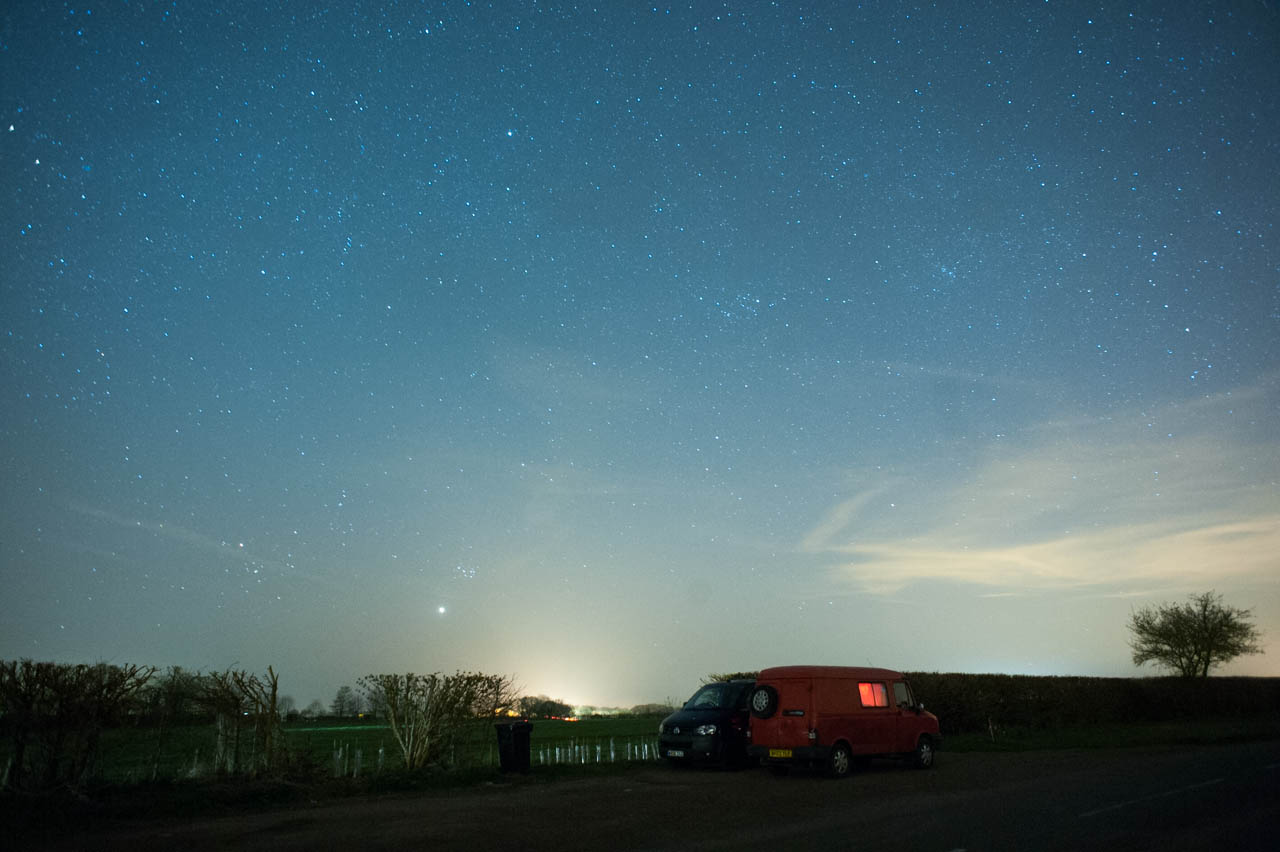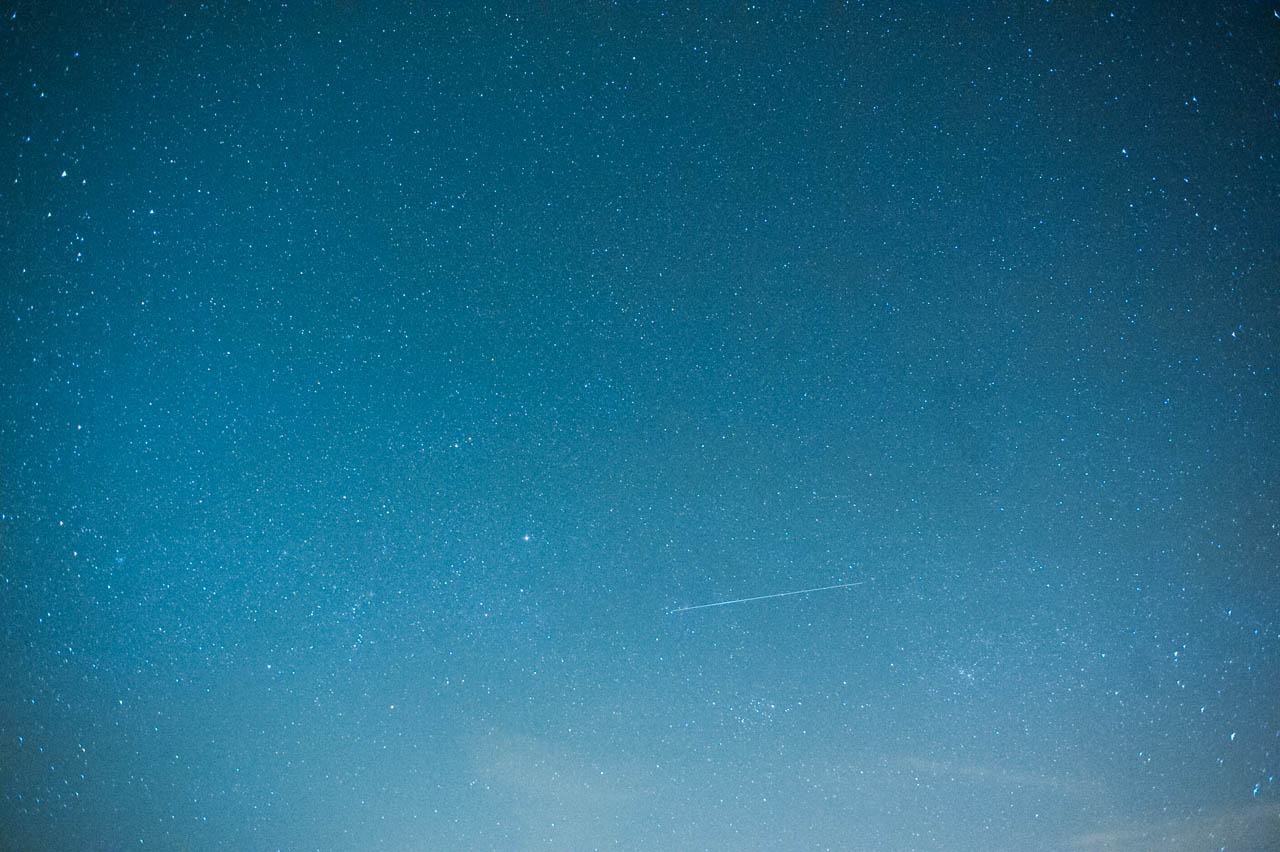 May
In May I had the clutch fixed, very surprised it hadn't gone well before then based on what it was like when removed. I also bought some 17" VW steel wheels to replace the stock 16" steels. Apart from that vanlife went on as per.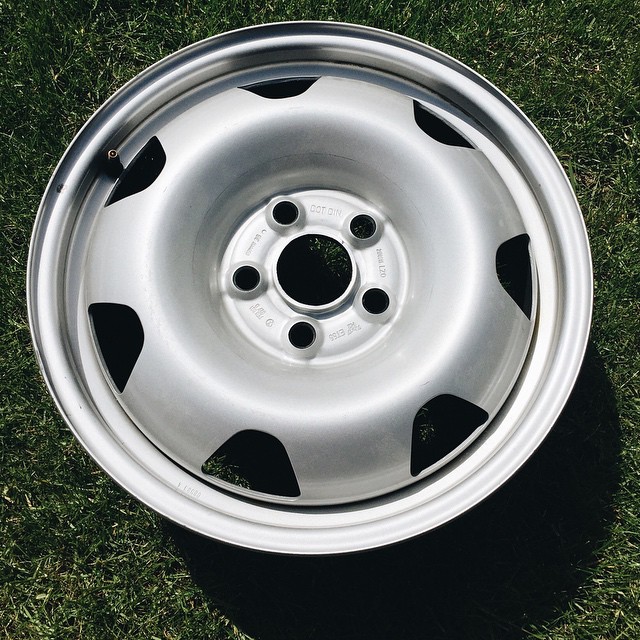 June
As June came around I got H&R Coilovers for a price I could never have refused. As Glastonbury was fast approaching I took most of June off work as holiday, heading home I stopped off for the night in a layby just outside of Telford before picking up my sister from uni in Chester.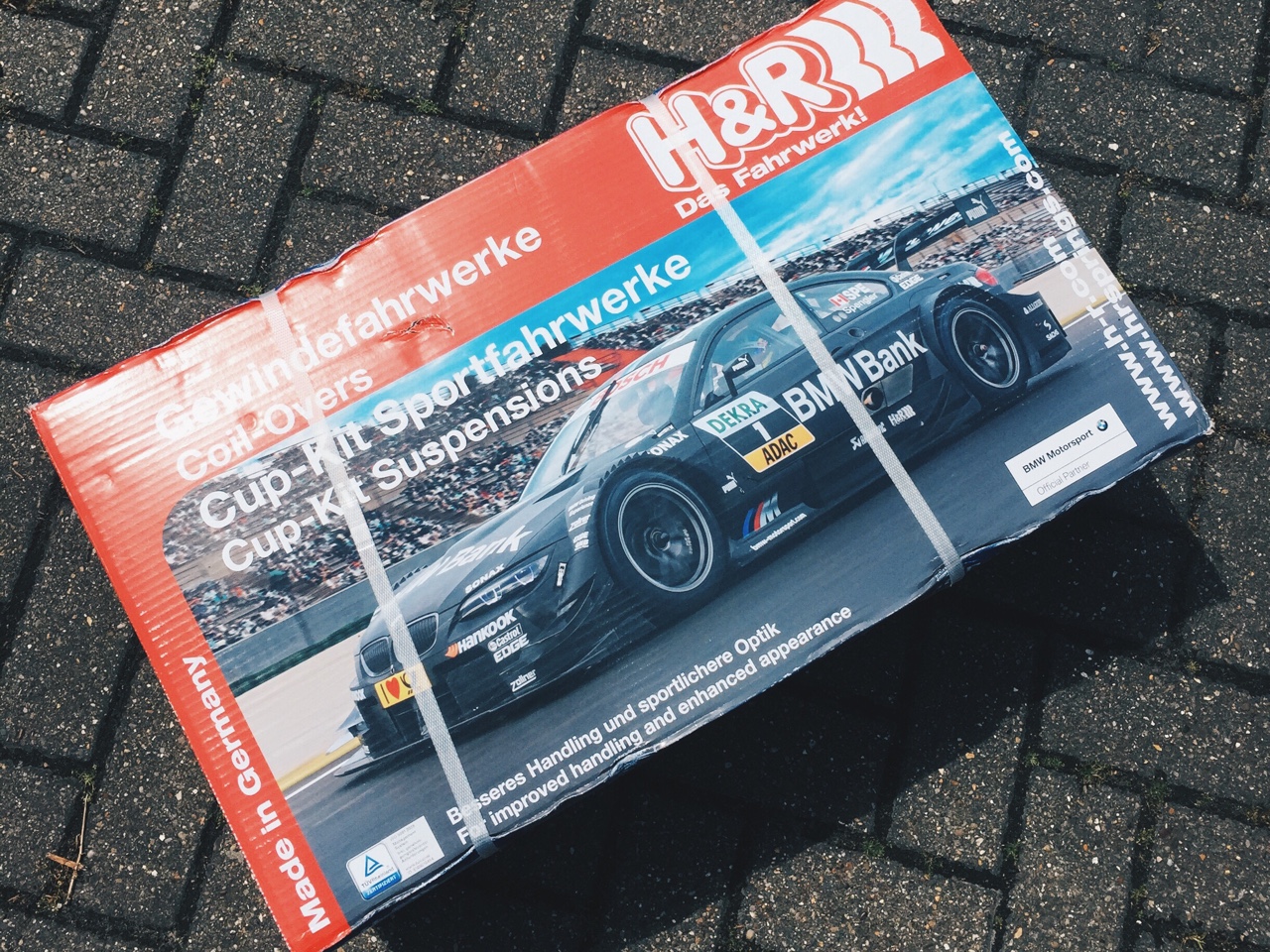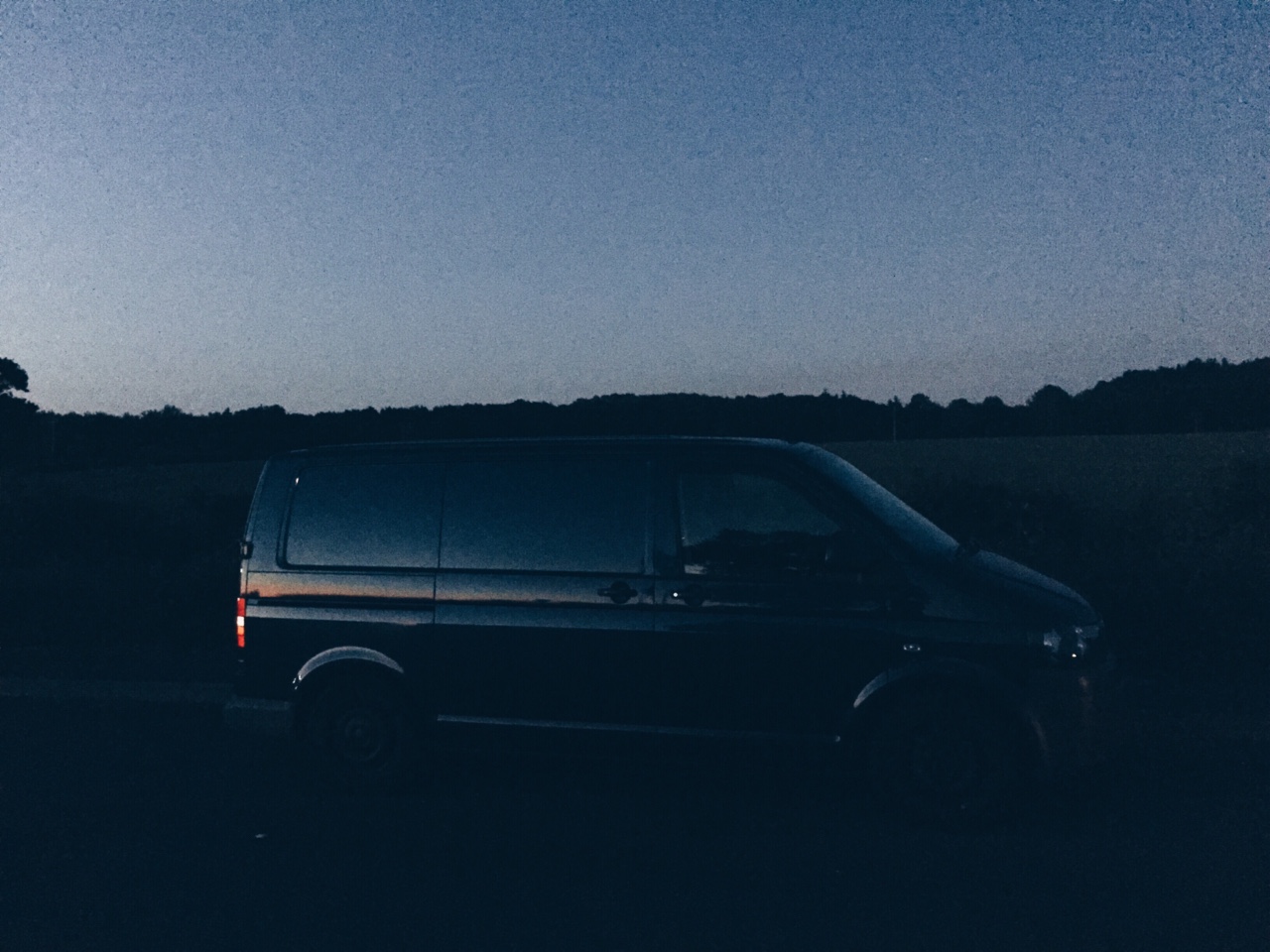 When in Cheshire, you need to visit the Cheshire Ice Cream Farm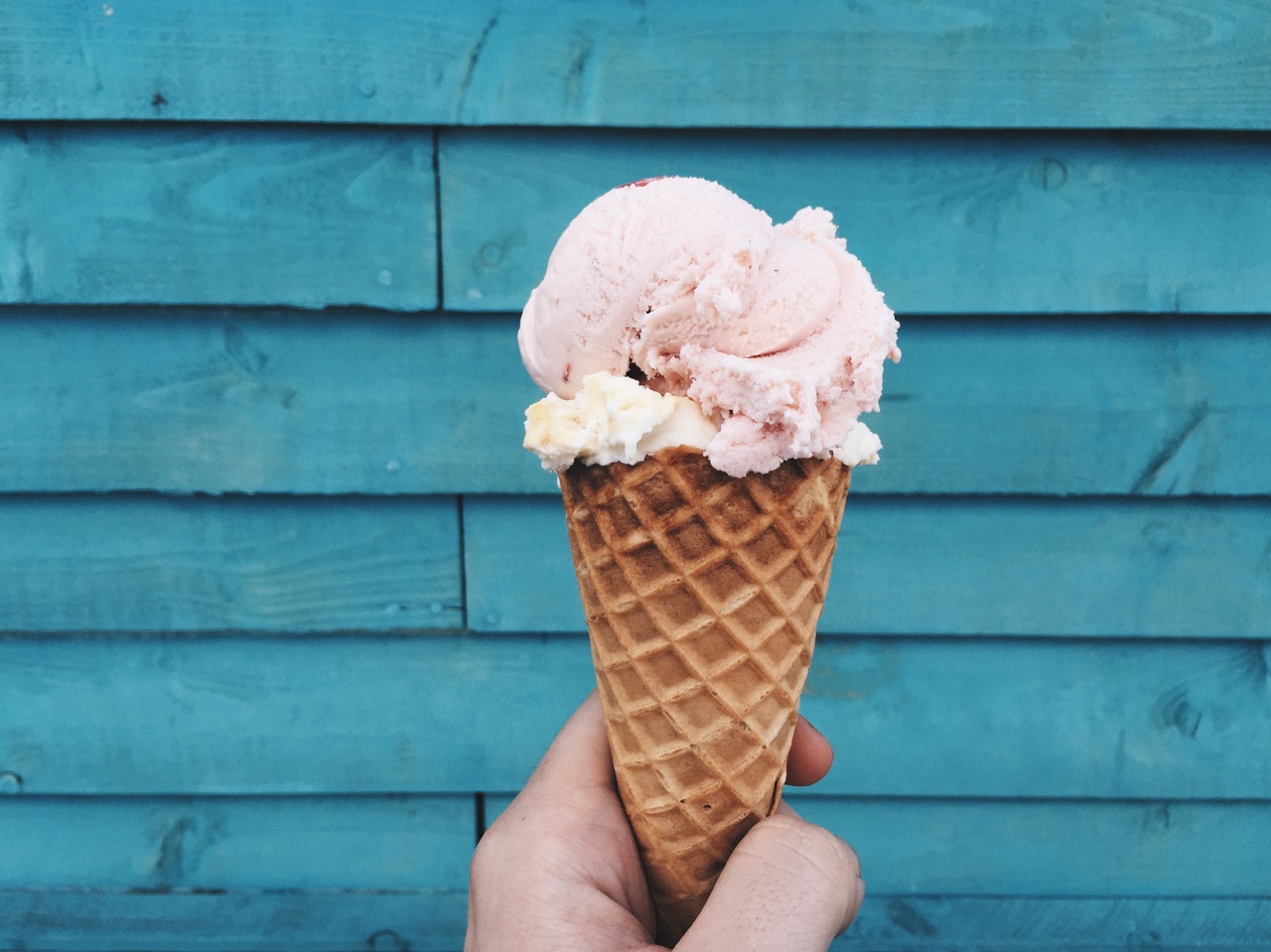 With the van loaded full of wheels, tyres and a box of suspension bits I set off for Elgin where my uncle helped me fit the wheels to the tyres and replaced the old suspension.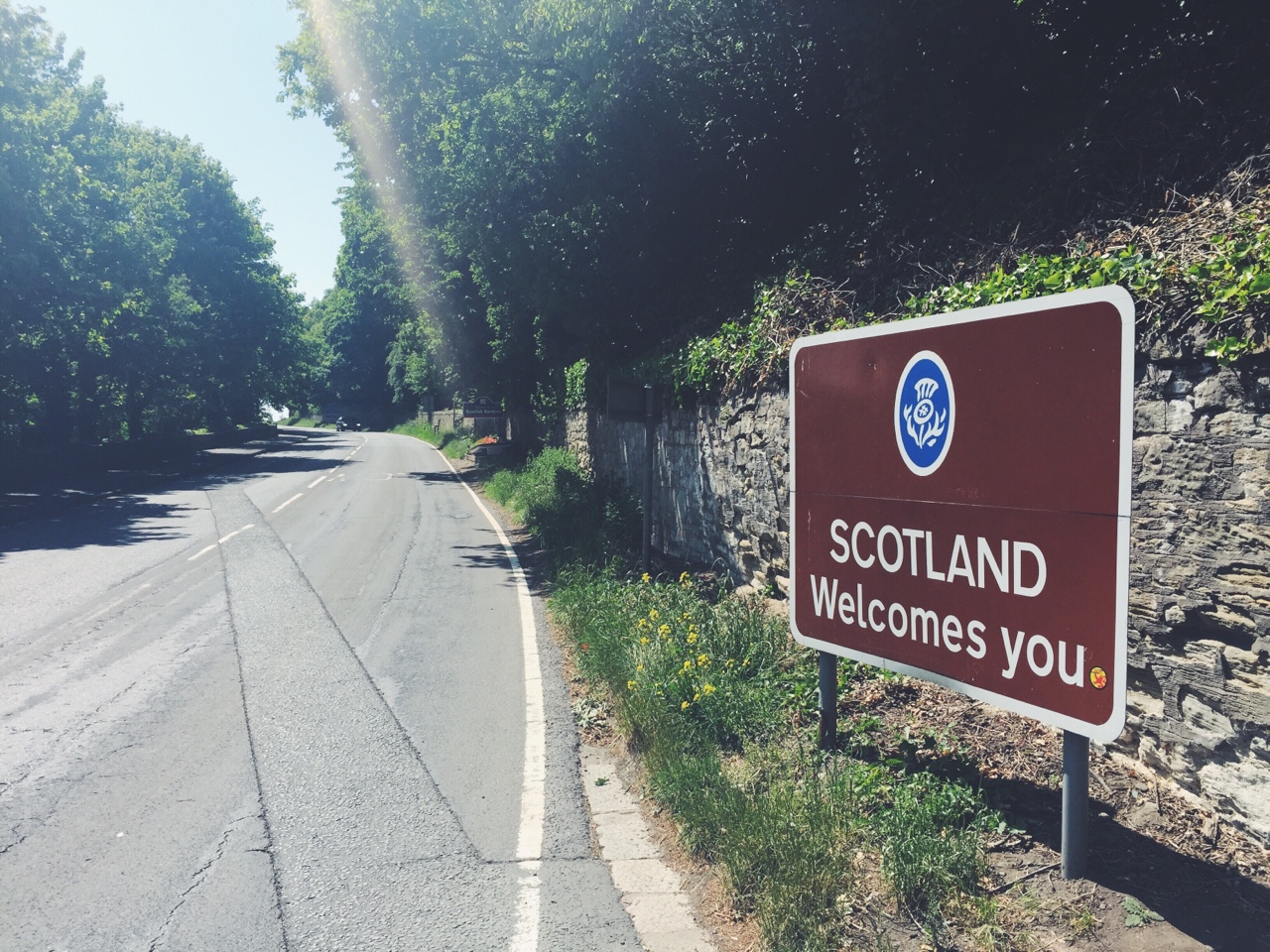 Possibly one of my favourite photos of the van just after it was lowered: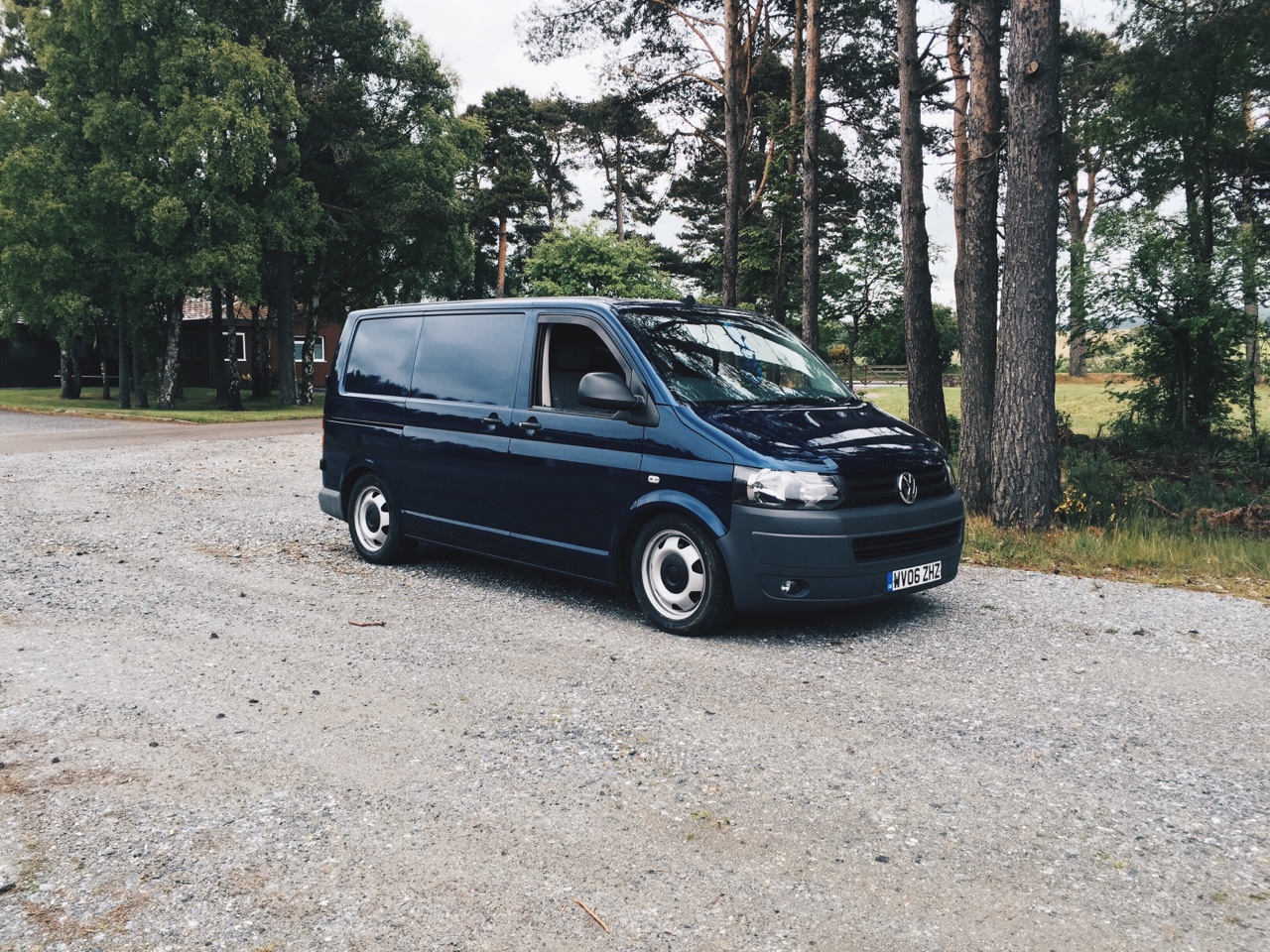 Vanlife got way better on the return leg from Elgin as I decided to take Inverness, Glencoe, Dumfries route back home. And as such I spent my first night wild camping in a small wood just outside of Dumfries after visiting Brattleburn Bothy. Which I sadly didn't make it to when I did my 1000 Miles on Kindness trip.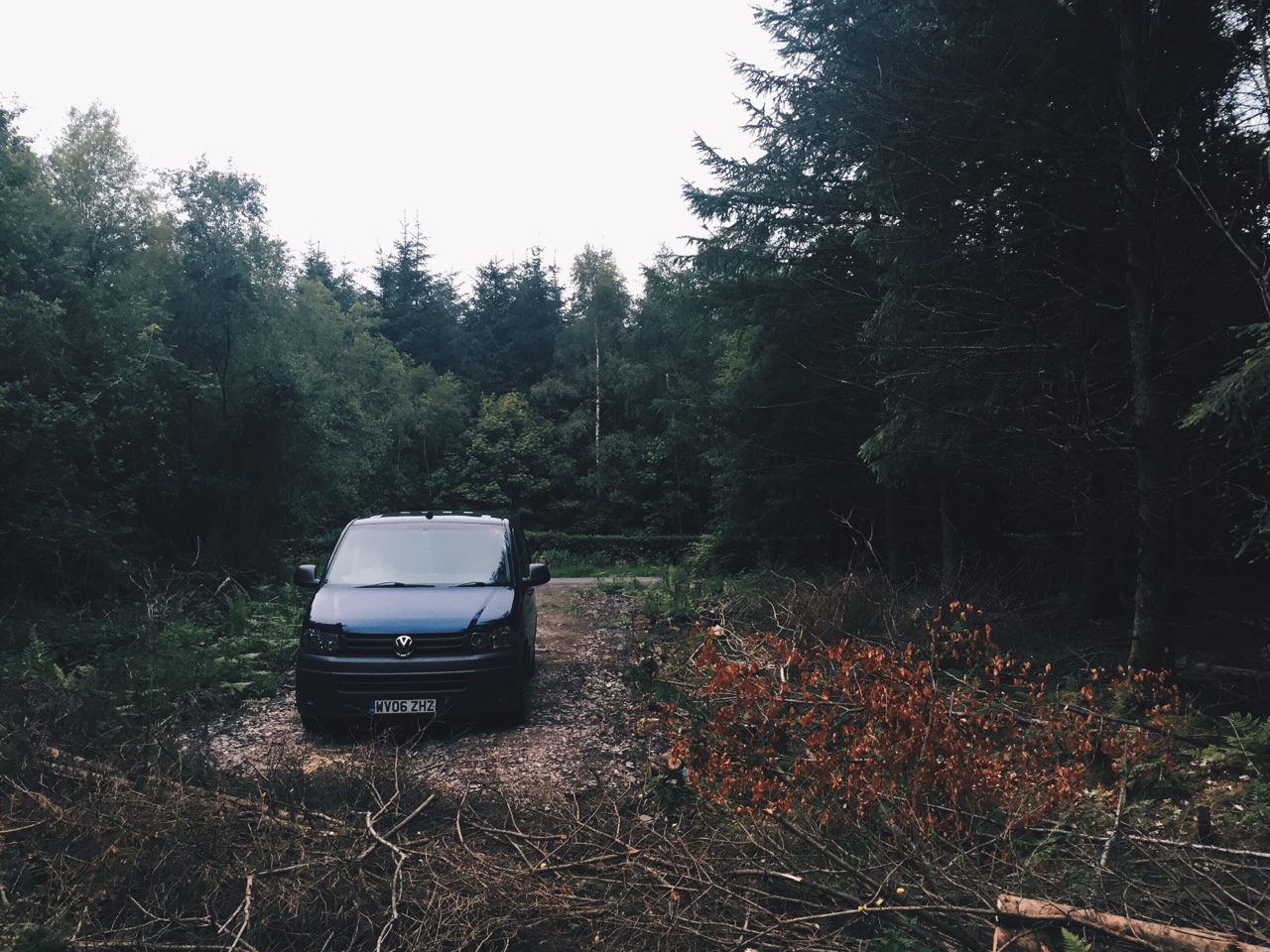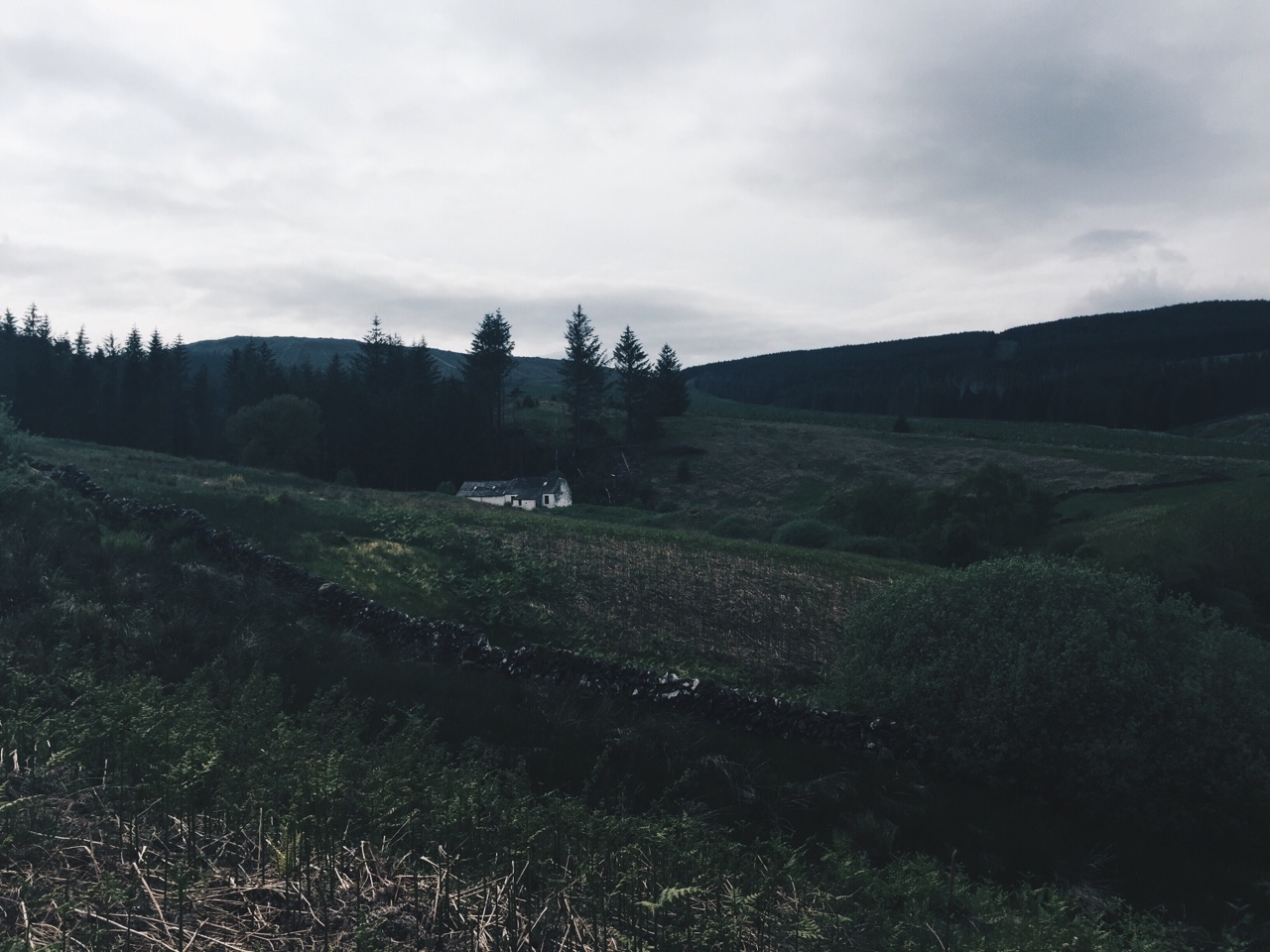 Made it back just in time to get to the North East VW T4/T5 Monthly Meetup which my other van friend Pat took a nice photo of the van.
Glastonbury Time! My dad and I set off for a campsite just outside of Shepton Mallet which later Steve joined us too. Glastonbury was great as usual but I'll leave that for another post another time.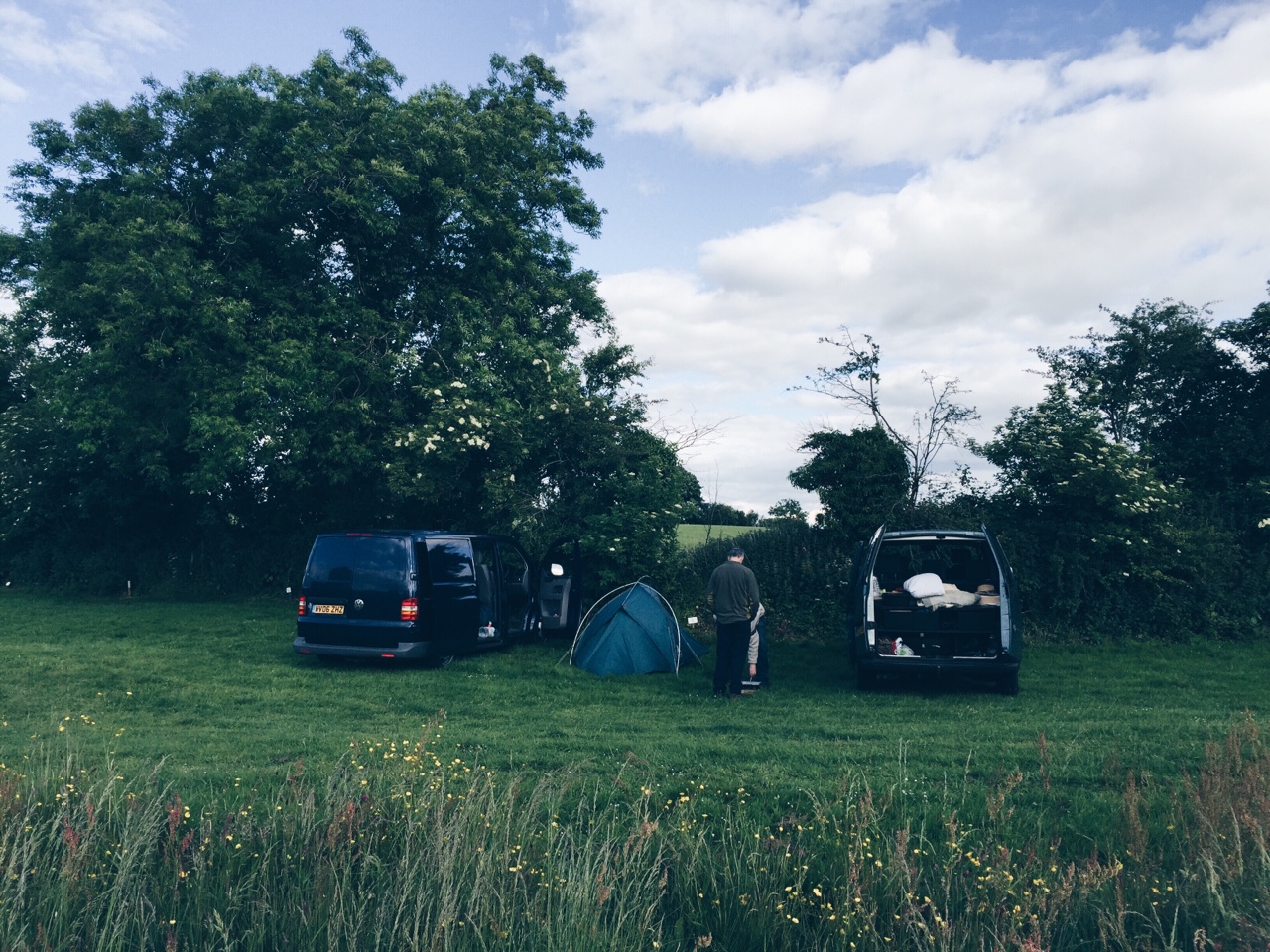 Post-Glasto: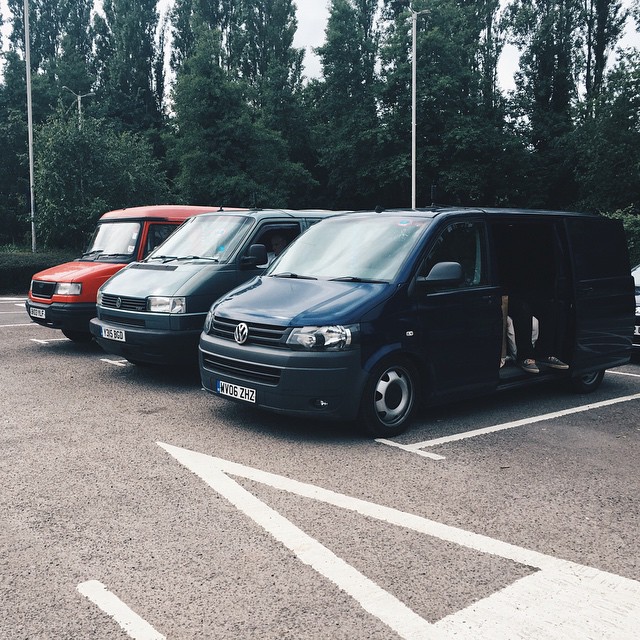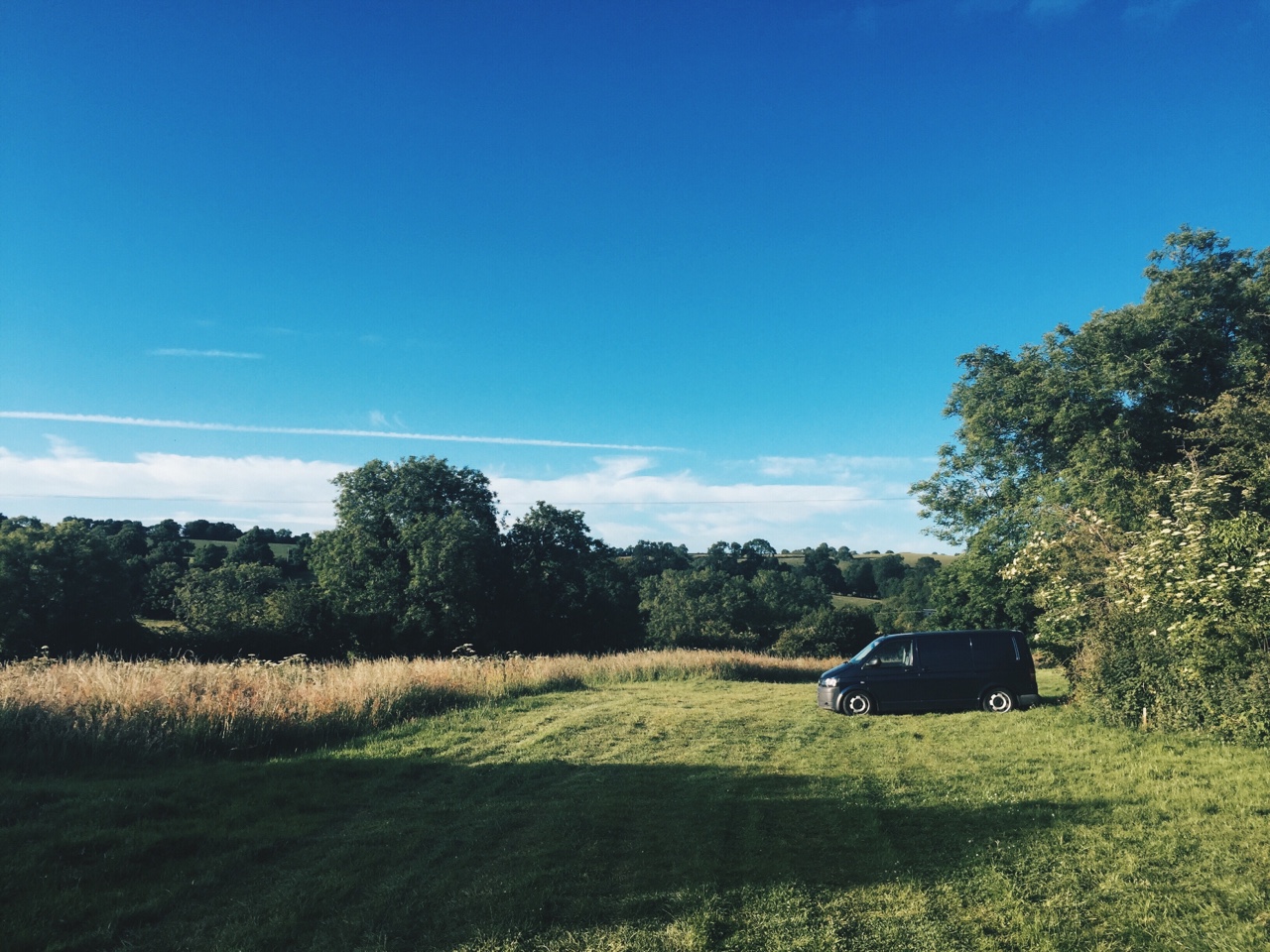 July
July marked the 1 year mark of getting my van along with 1 year of van life.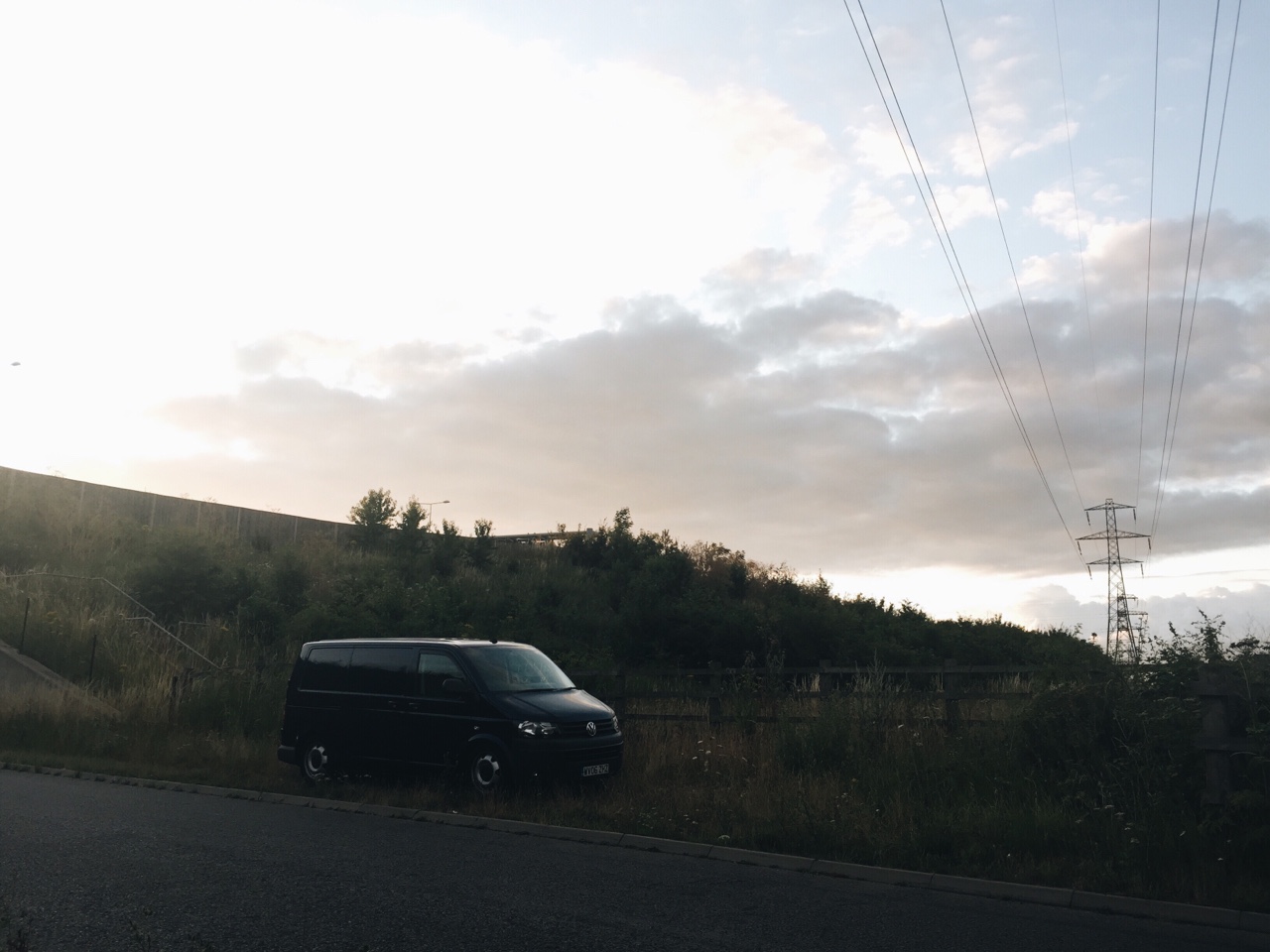 End of July I wild camped in Leigh-On-Sea, Essex then explored Essex with Didge the day after. Waking up by the sea is great.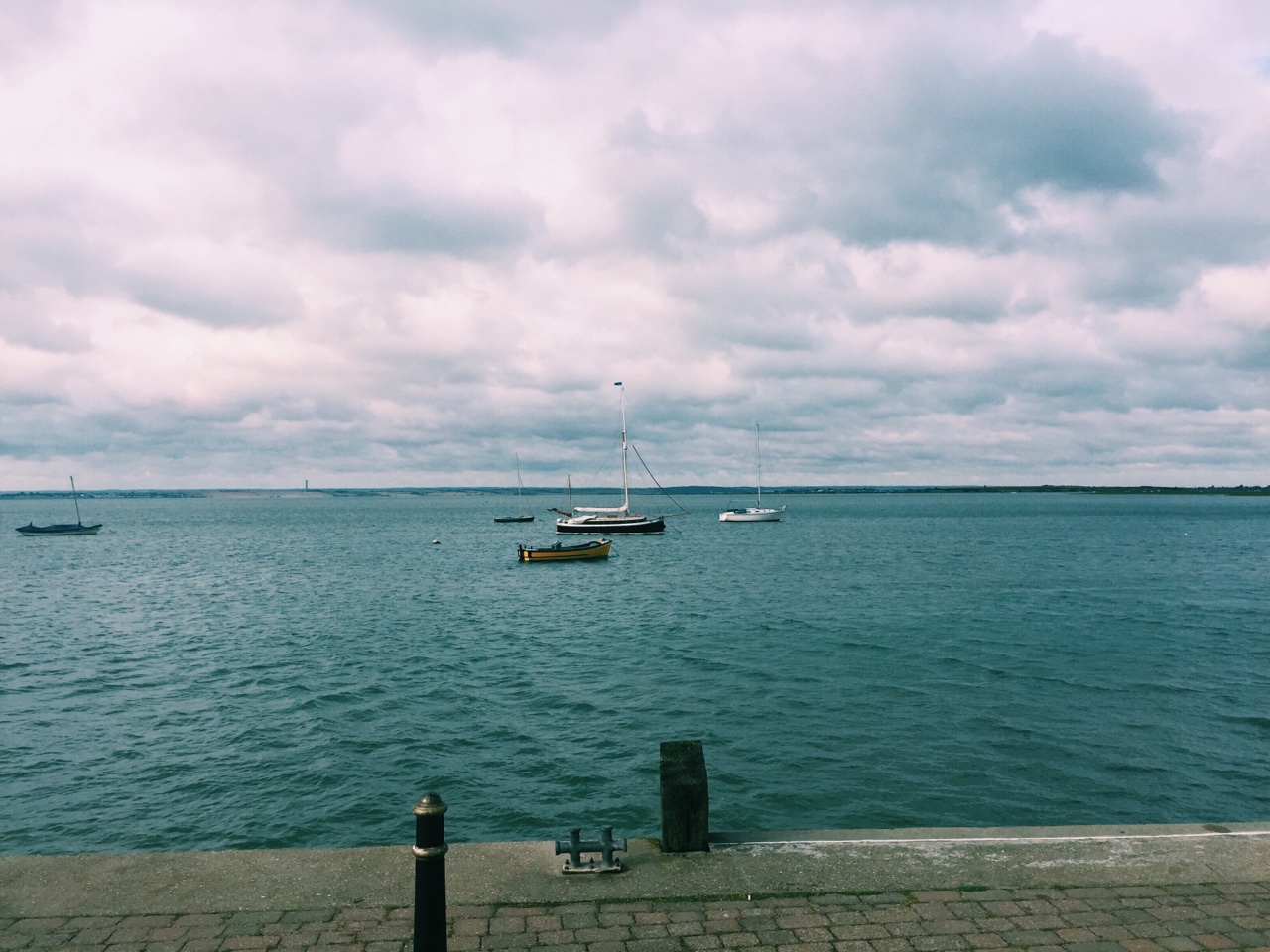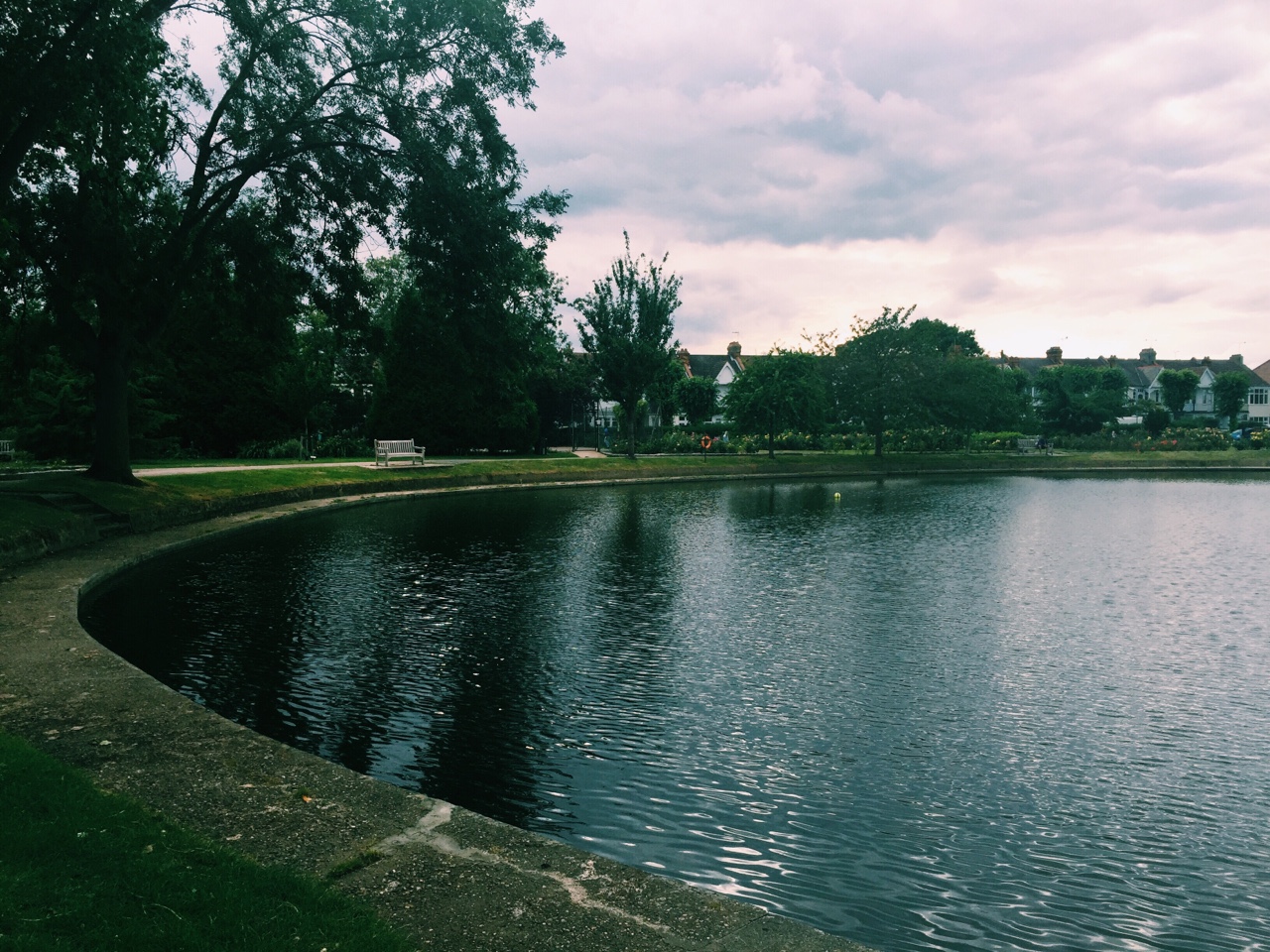 In August to further make the van habitable I decided to finally carpet the interior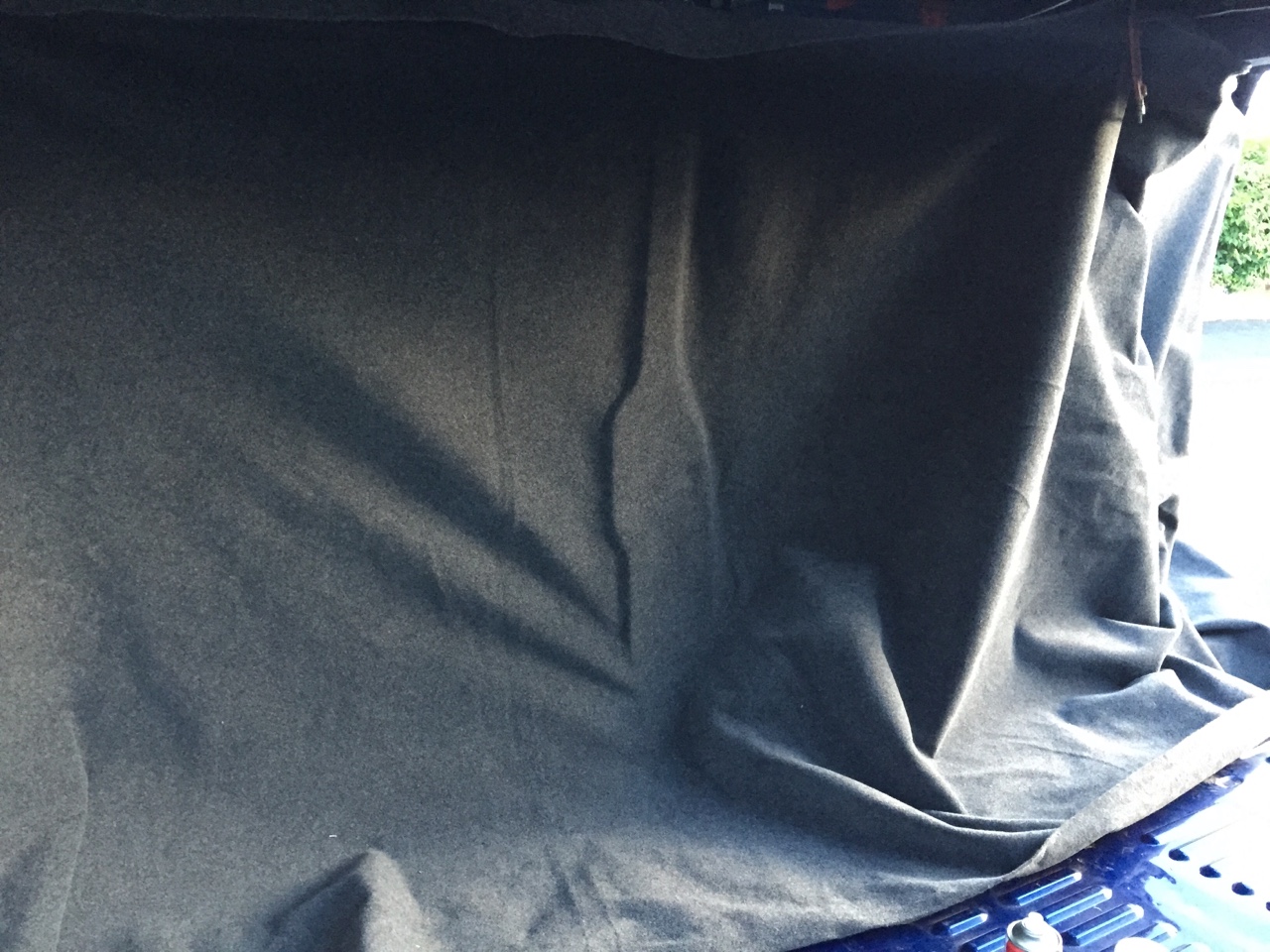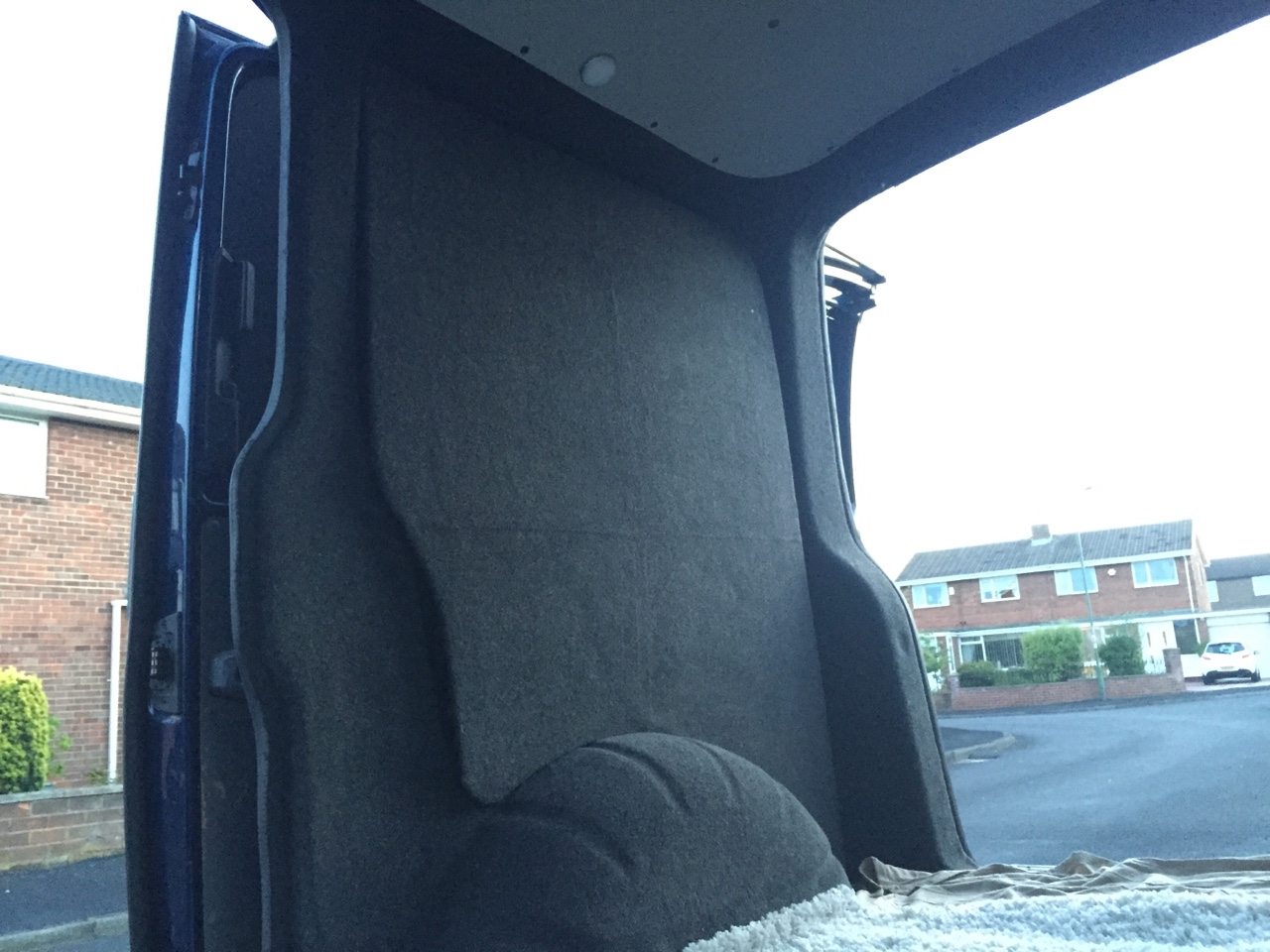 Mid august I drove up to Edinburgh (again??) as I found some genuine Caravelle sliding side windows.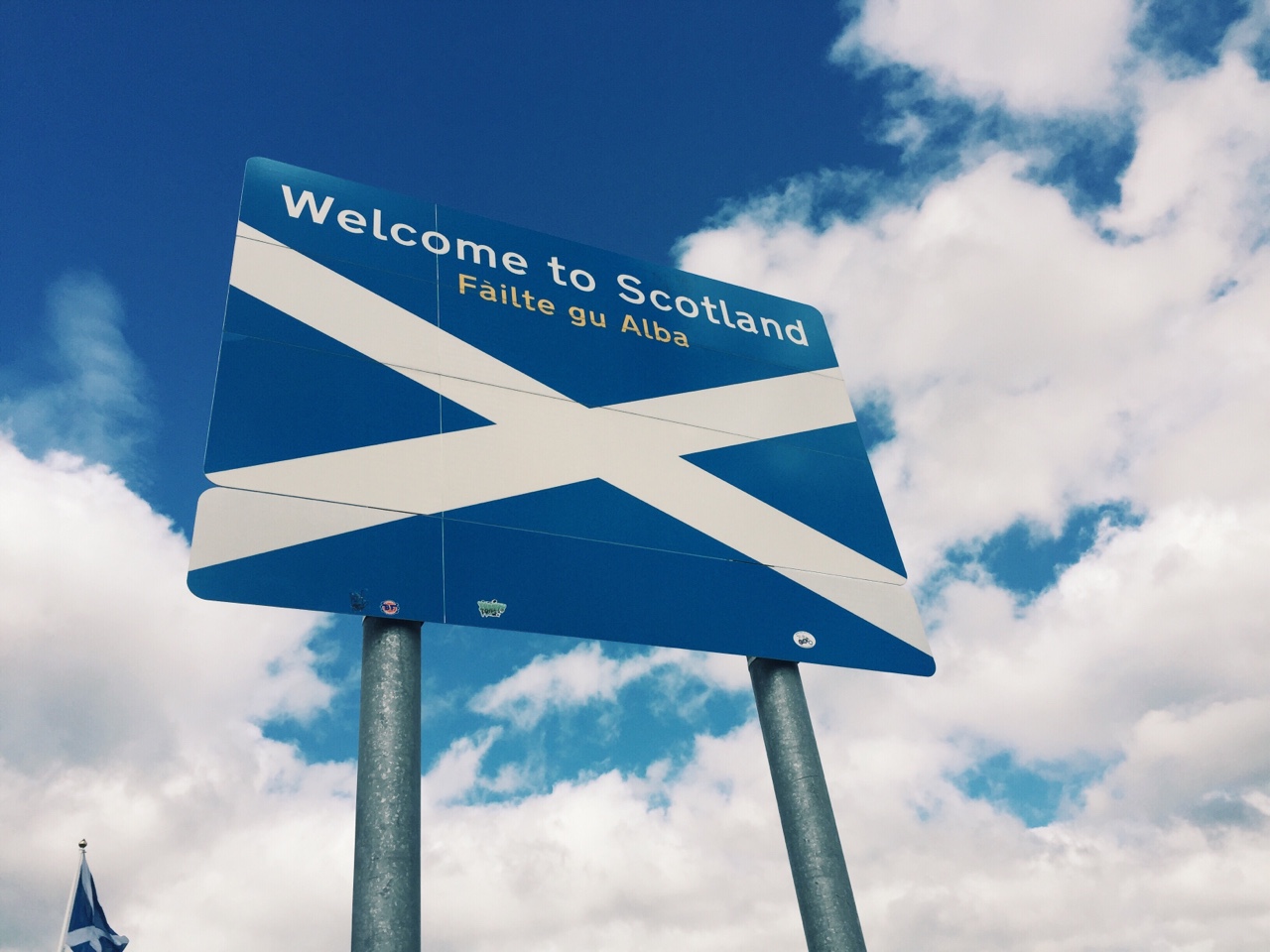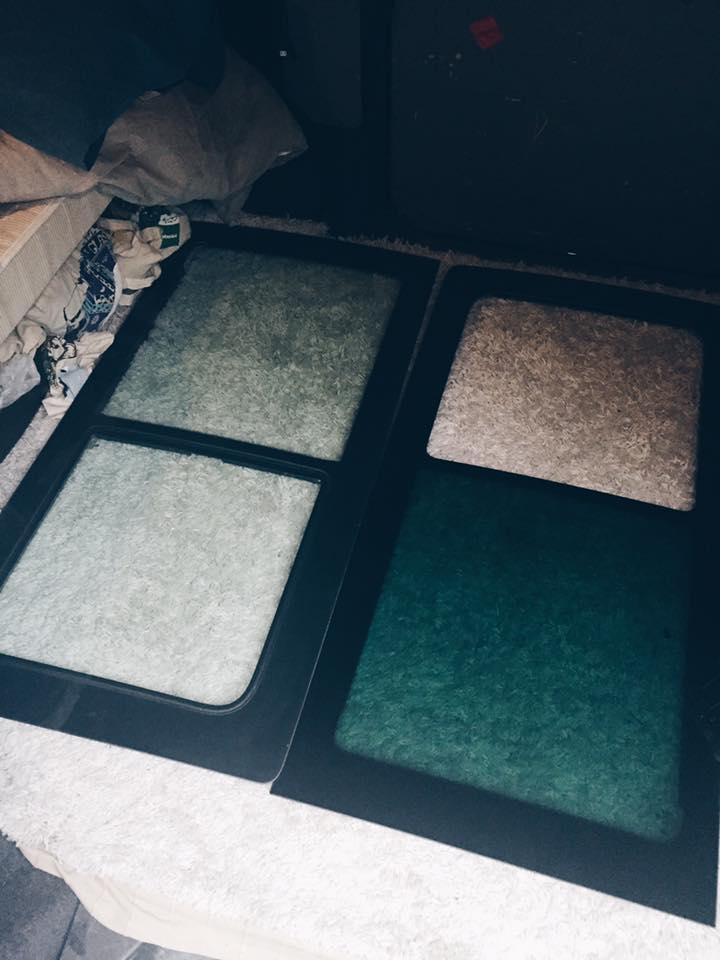 September
September, finally, almost up to date.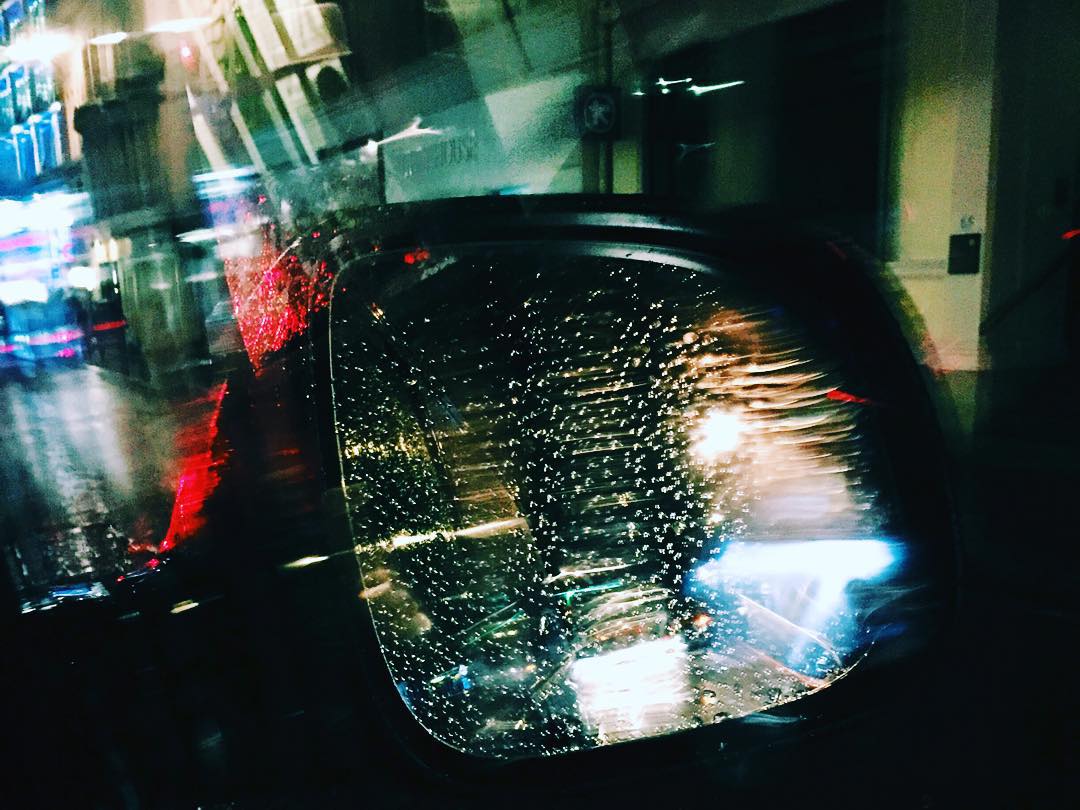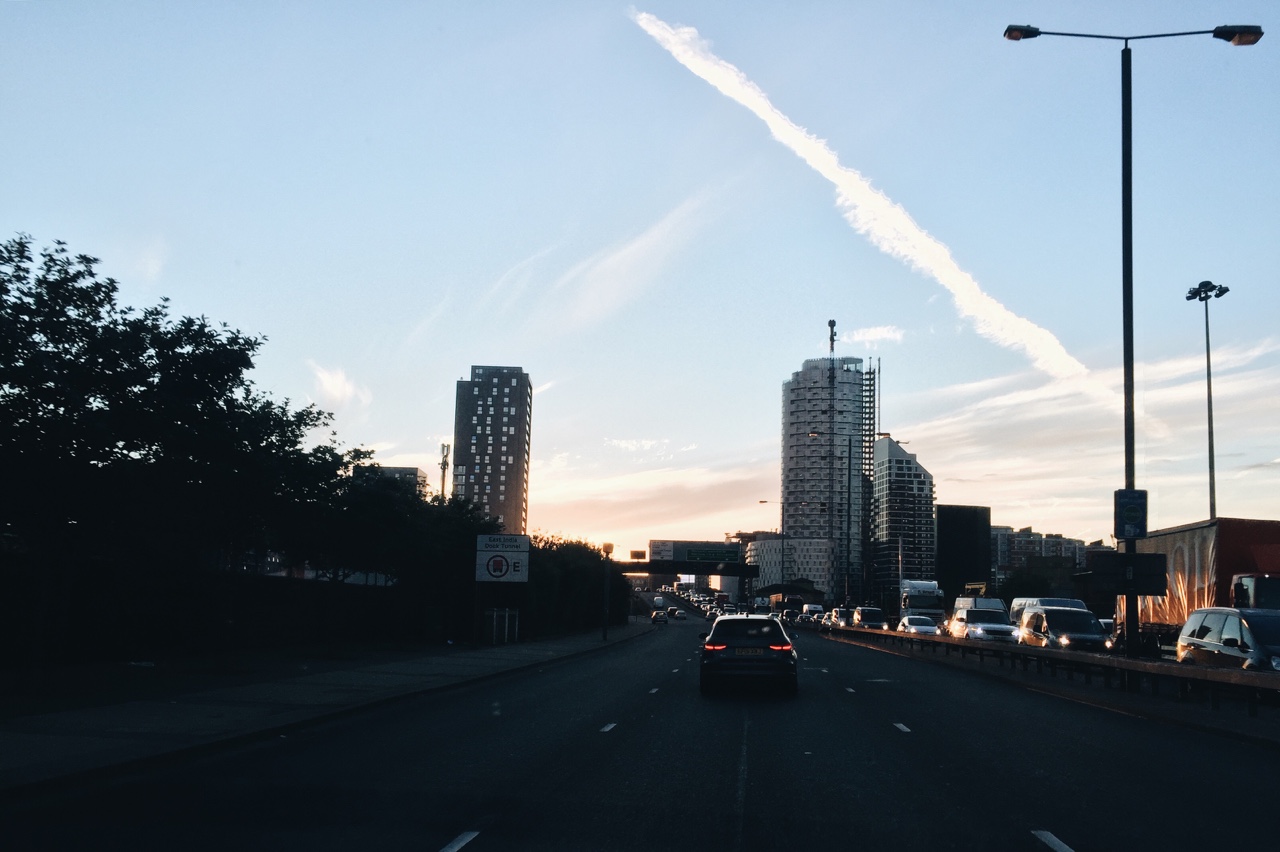 It finally happened, I was asked to use my van for it's intended purpose. Konnaire asked me to help move all of his things into his new flat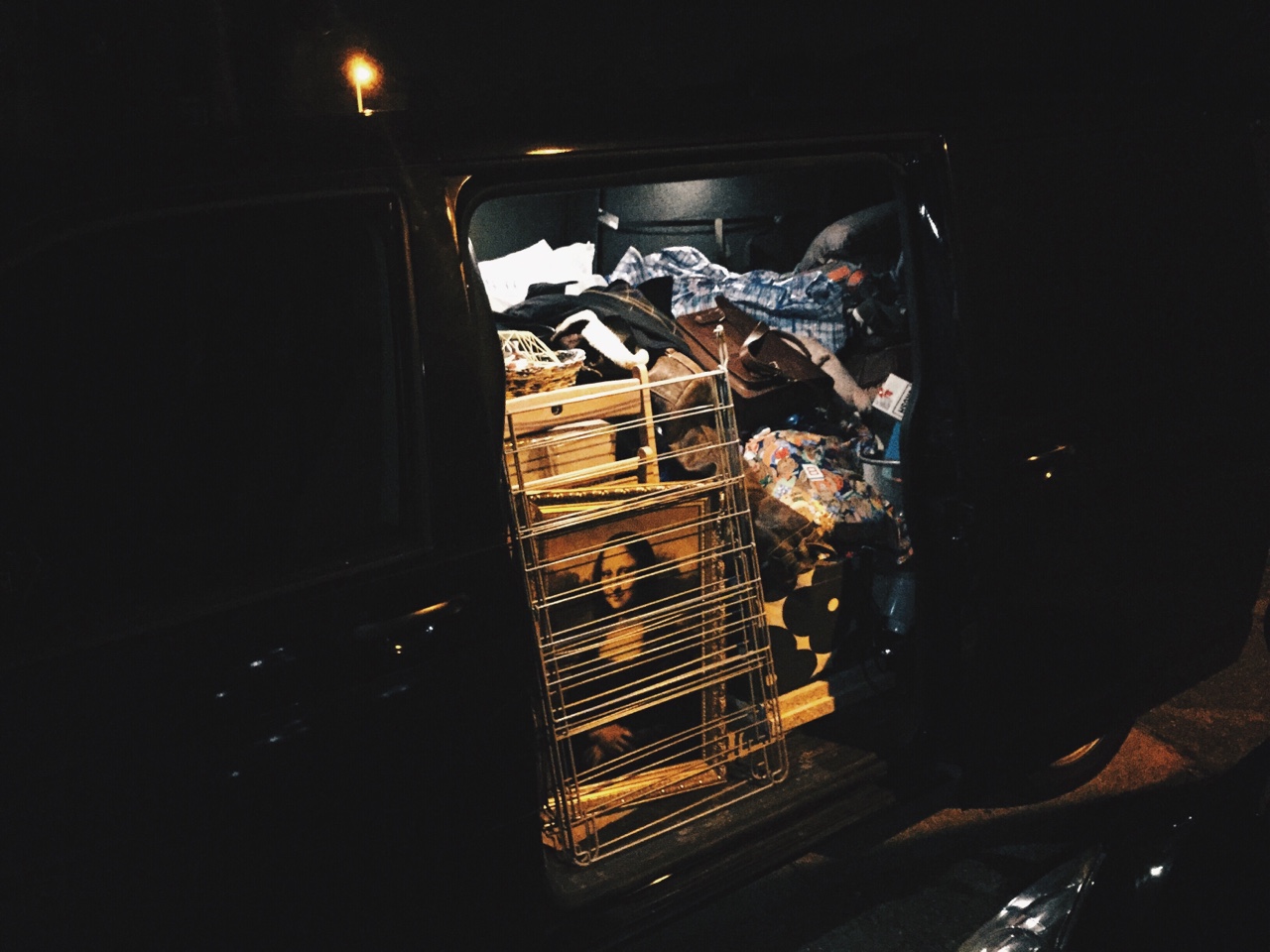 Steve asked me if I fancied giving him a lift to Sussex to collect his Alfa which has been in the garage for way too long. Obviously I took the opportunity. Spent the night parked up near Jack and Jill Windmills in Clayton.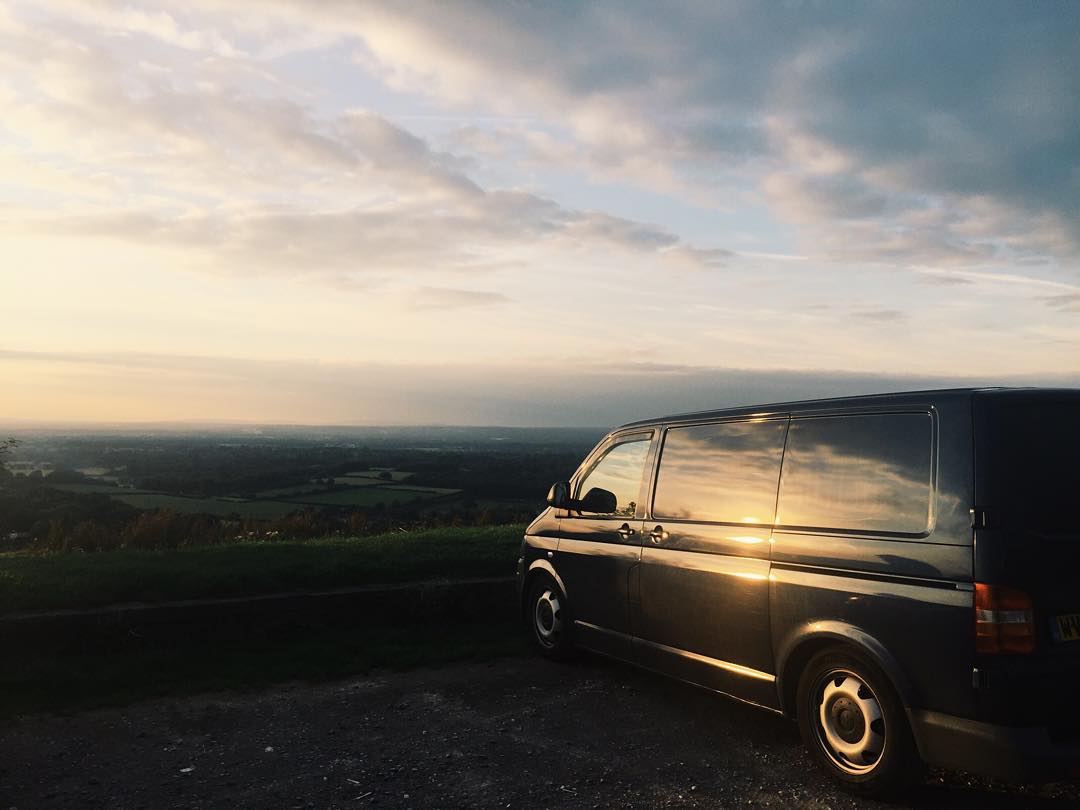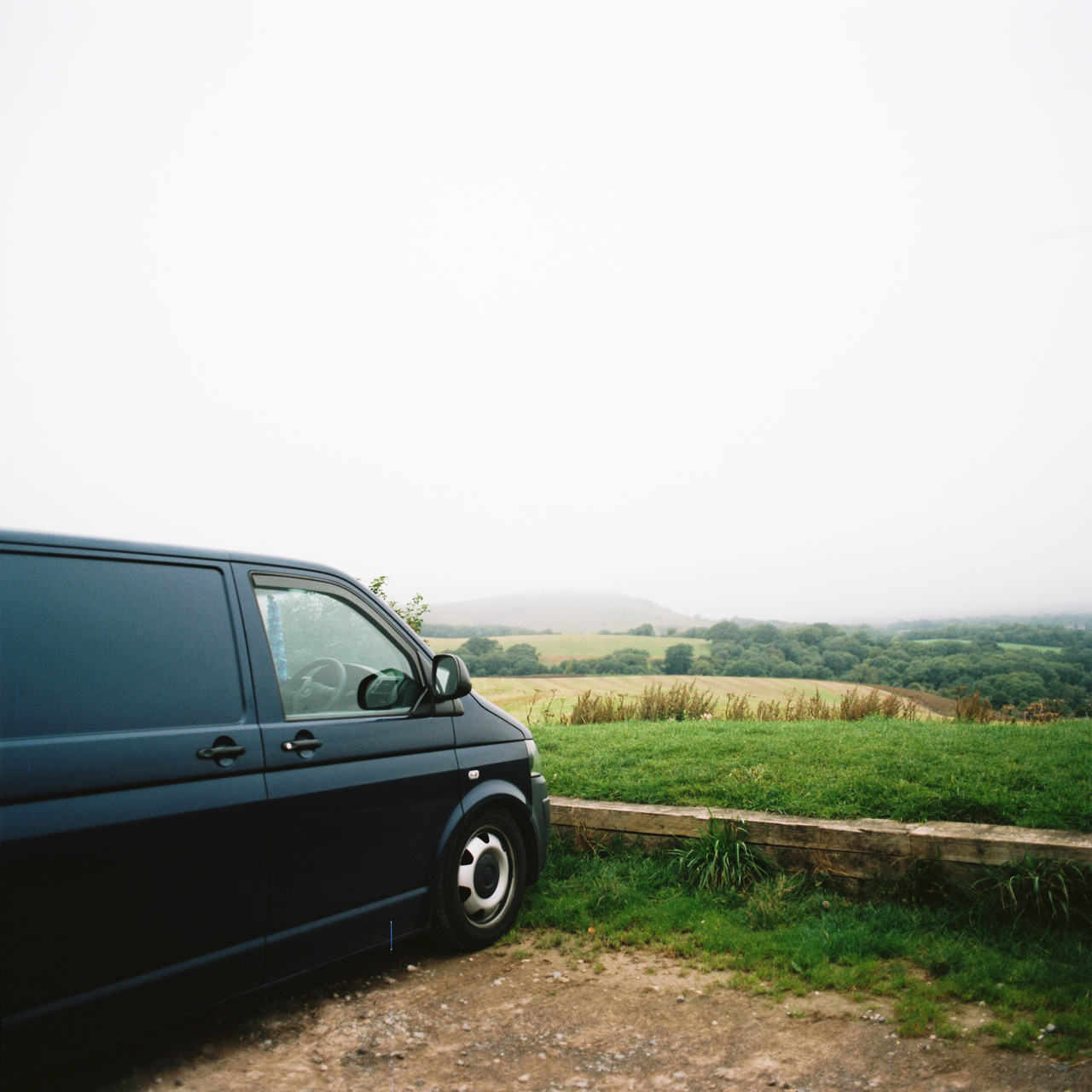 Popped into Brighton the day after and visited Mr. Wolfe coffee shop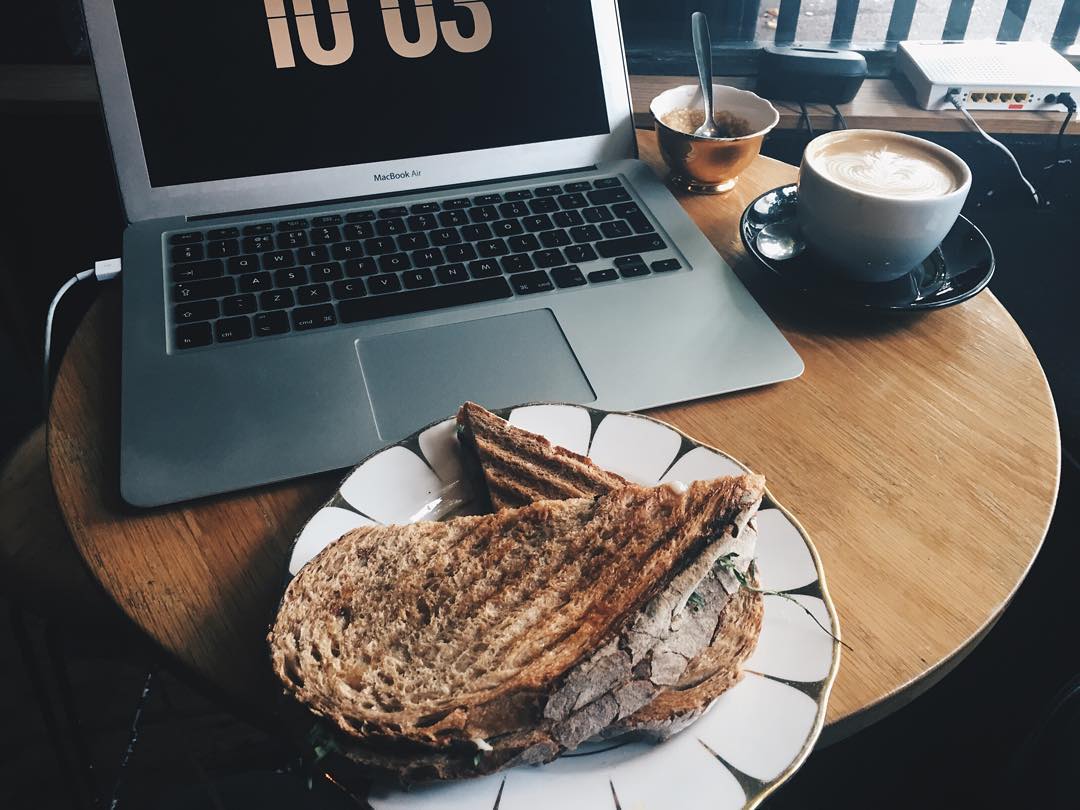 October
Back in July I had been told my team and I were being made redundant. To make the most of my last month in the South I took a trip down to Cornwall (More photos of this trip in my post *Insert excuse to drive to Cornwall*) where I wildcamped in Dartmoor, visited Eden Project, stayed overnight by the sea in Sennen Cove, visited Falmouth, Truro ending the day back at Mendip Lodge Campsite, the same one I stayed at before and after Glastonbury, popping into Bristol on the way back to London.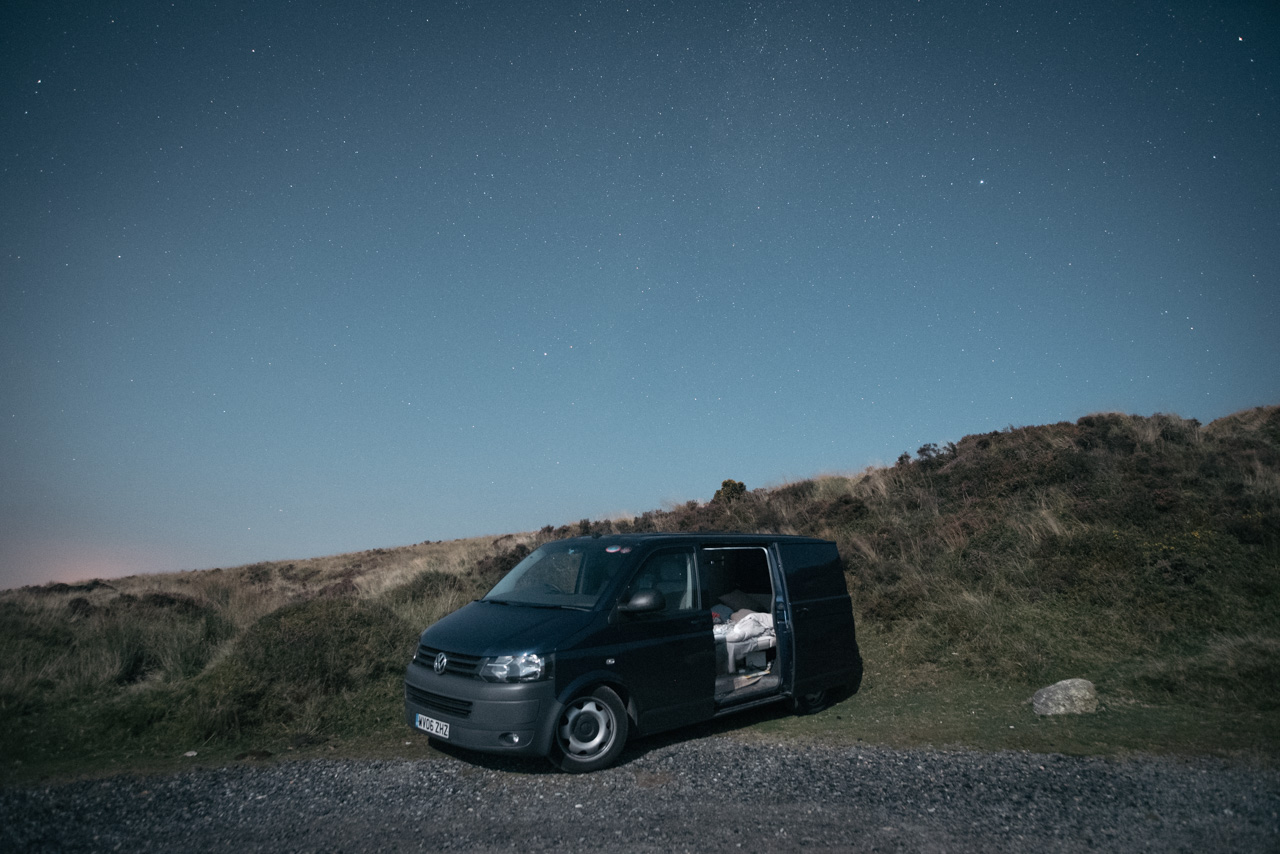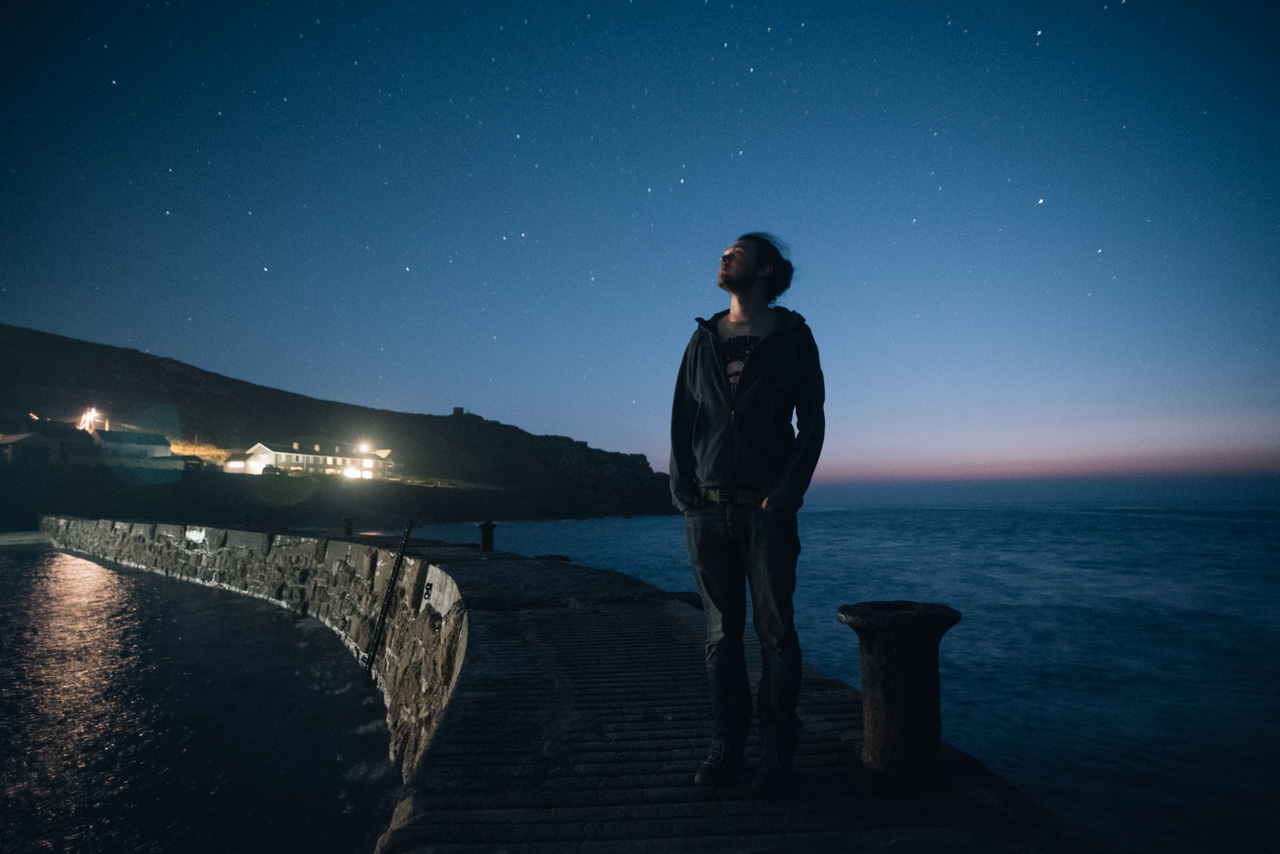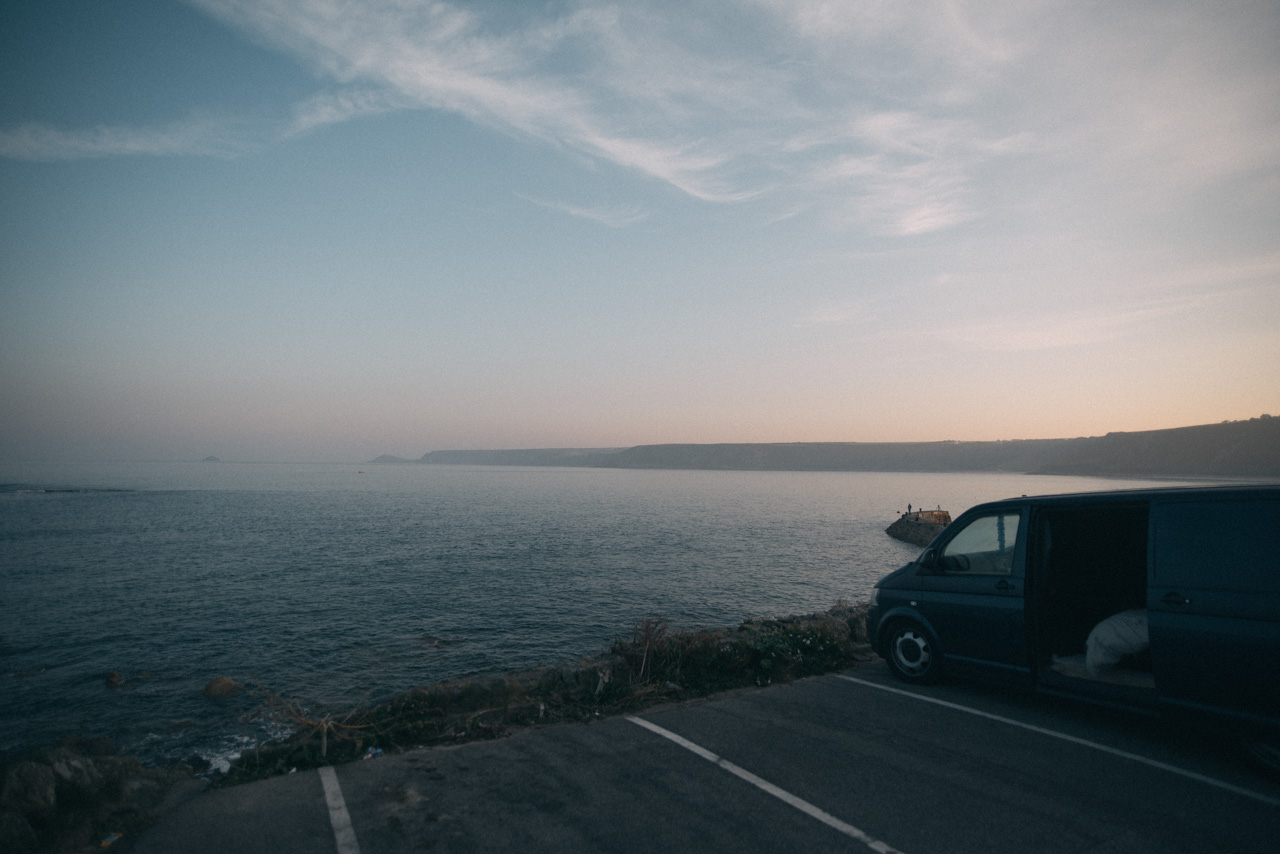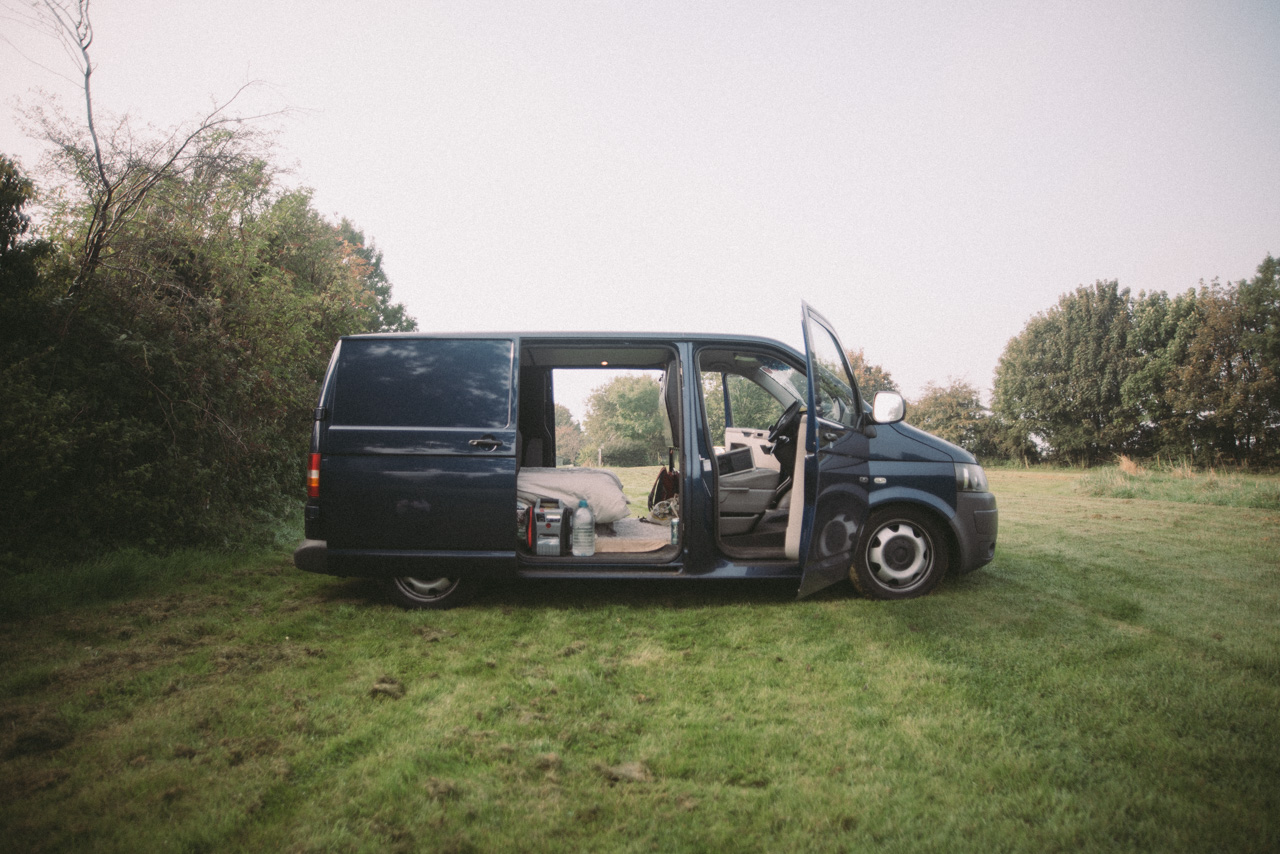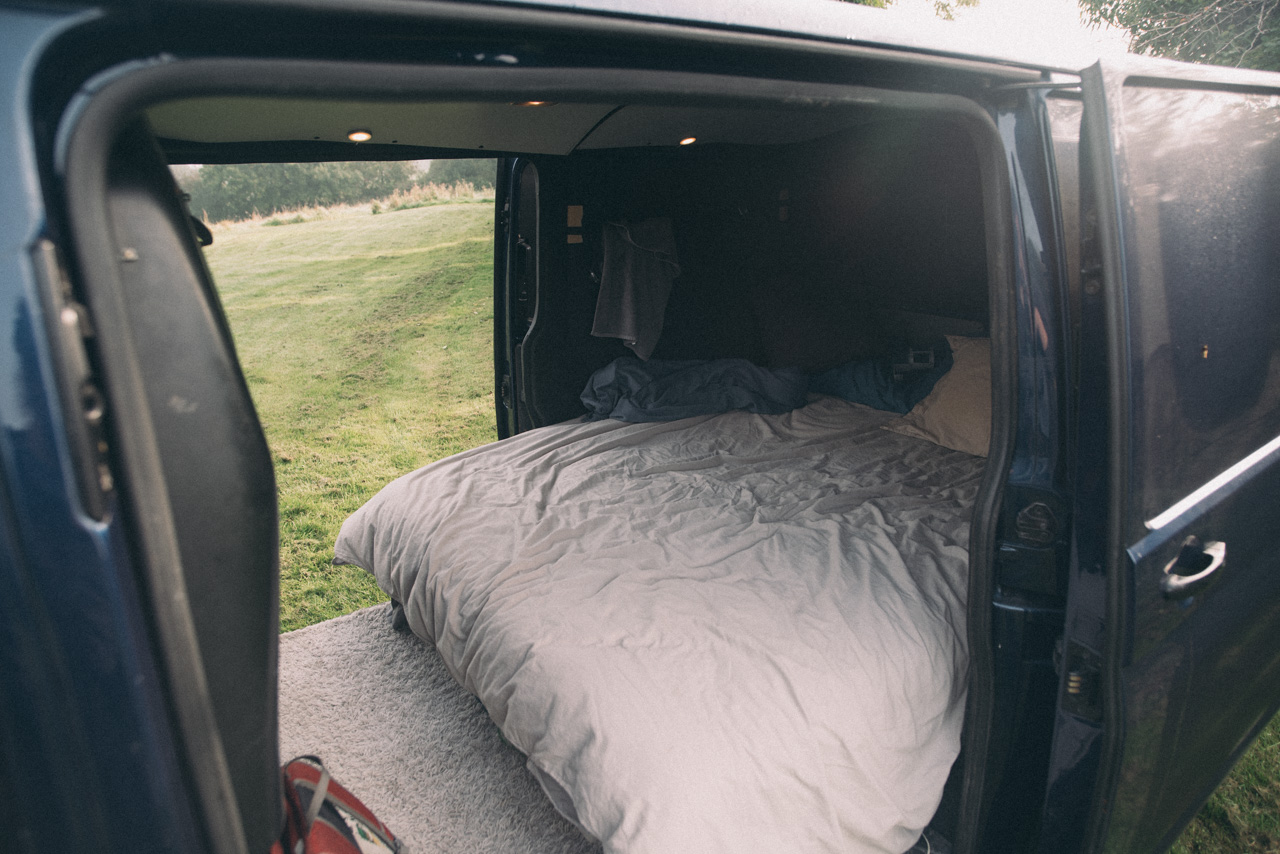 On the 12th of October I had rolled over 30,000 miles milestone. It has taken me as far North as Spey Bay, as far East as Amsterdam, as far South as Paris and West as Land's End. And so many other places within.
I left London indefinitely on the 28th of October 2015, 1 year 3 months 24 days after I moved into my van, thinking it was going to be a short term solution until I found a flat to rent. Here's to many more travels in 2016!